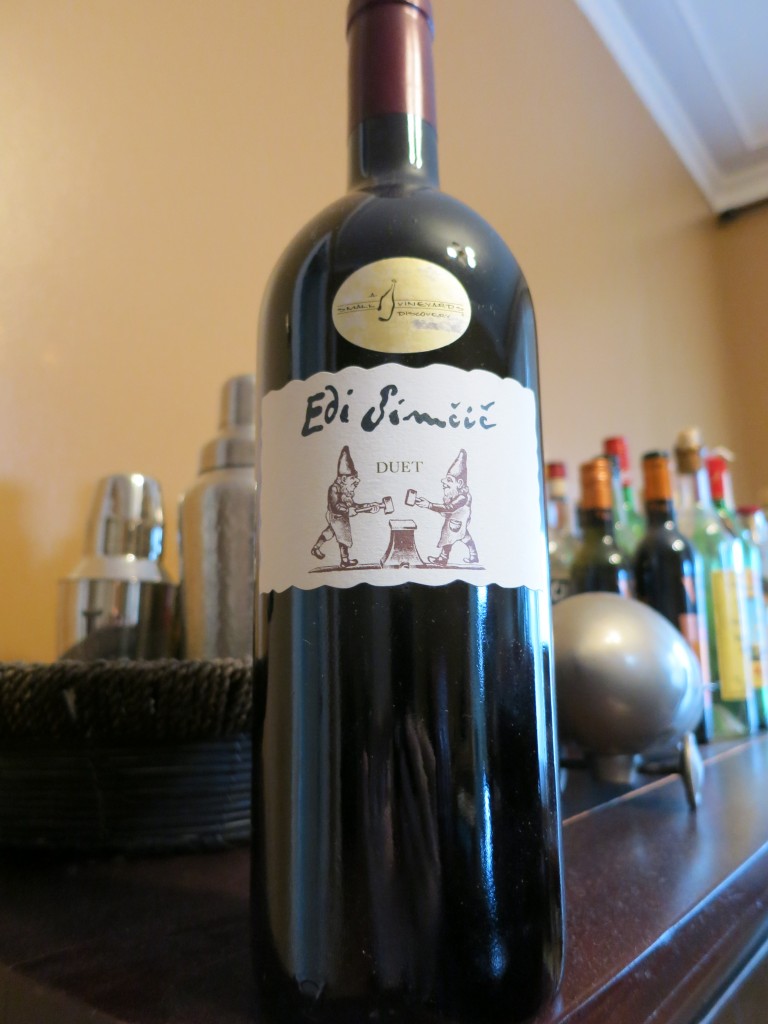 Despite the general high quality and relative obscurity of Slovenian wines, I haven't written much about them. I finally figured out the completely irrational reason why: Years ago, on a visit to Movia's wine bar in Ljubljana, my friend and I were wildly overcharged for some tastes of wine. I was in my mid-20s, just learning about wine, and too shy to say anything to the bartender. Since then, it's been almost a reflex to avoid Slovenian wine, and Movia's in particular. Irrational, as I said, but there it is.
It's time to overcome that aversion. During Slovenia's Yugoslav decades, wineries concentrated on quantity over quality, as did every other communist wine-making country. But now, Slovenia has "established by far the most successful wine industry [of the former Yugoslav republics]," according to The Oxford Companion to Wine. It goes on to note that "Production is focused on quality and premium quality (vrhunsko) wines, with only about 30 percent of basic table wine quality." And The Sotheby's Wine Encyclopedia lavishes praise on Slovenia, calling it "the rising star among the winemaking countries of the Western Balkans."
It makes good sense that Slovenia, which lies south of Austria and east of Italy, would have the potential to make great wine. Some of its best vineyard sites are "influenced both by the Adriatic and the Alps," as The World Atlas of Wine describes, and "the green rolling hills provide some excellent grape-ripening sites." In Slovenia's west, some of the wine regions simply continue on from the Italian vineyards just across the border.
Feeling ready to once again explore the joys of Slovenian wine, I happily accepted a free sample of 2008 Edi Simčič "Duet" from the Goriška Brda region, which more than one source describes as an extension of Italy's Collio DOC.
Indeed, The World Atlas of Wine's detailed map of Goriška Brda is placed with Friuli, rather than with other Slovenian wine regions. The map locates the Edi Simčič estate in the far south of Goriška Brda, near its more famous neighbor of Movia and the Italian border. Keep an eye out for wines from Goriška Brda. The Oxford Companion calls it "Slovenia's most esteemed wine district, having begun to move to quality in the late 1980s." Like neighboring Friuli, Goriška Brda produces many white wines, but both the Oxford Companion and the World Atlas note that Bordeaux-style blends, such as the Simčič "Duet," are some of the regions best bottlings.
I sampled the Simčič "Duet" with some friends recently, and our experience with this blend of Cabernet Franc, Cabernet Sauvignon and Merlot certainly did nothing to contradict the Companion or the Atlas. It had an aroma of dusky, dark-red fruit with the notes of iron and clay that I associate with Slovenian reds. It's a big wine. One friend exclaimed, "My first sip hit me hard!" Although the wine is powerful, it exhibits focus and restraint, with well-balanced acids and deep, creamy fruit undergirded with earth. The finish felt tannic but elegant and firmly in control.
According to this charming and rather enigmatic video, the winery first started making this blend in the 90s, when it was "still very shy, but gnomes were forging a star of it." It's certainly not shy anymore. The gnomes in the cellar did their work well. It's now big and delicious, with a rather big $40 price tag to match. That's beyond what I can usually spend on a bottle, but if you do have the means, the Edi Simčič "Duet" offers more than enough flavor and elegance to justify the price. 
The sample of this wine was kindly provided by Wine Chateau.