9 January 2013
Comments Off

on Unusual Pairings at Urban Union – Part 3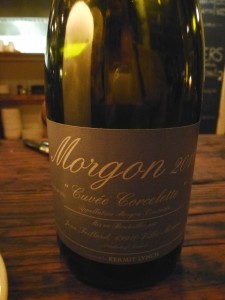 I must admit no small amount of surprise at this three-part post — I had no intention of rambling on so about the wine I had at Urban Union. If you're just joining us, you here are the links to Part 1 and Part 2, both of which are pregnant with tales of odd wines such as Jacquère from Savoie, Rkaciteli from Macedonia and rosé from Beaujolais.
Speaking of Beaujolais, we returned to that southern section of the Burgundy region with a 2010 Jean Foillard "Cuvée Corcelette" Morgon, which sommelier Andrew Algren praised as "a mind-numbingly beautiful Beaujolais."
Now this, of course, is not to be confused with the infamous Beaujolais Nouveau, that sweet, light, and generally overpriced red released around Thanksgiving. And Beaujolais can be confusing. Beyond the Nouveau, there is basic Beaujolais, Beaujolais-Villages which comes from the more desirable hills in the north, and finally cru Beaujolais.
This last category comes from one of ten different communes, each of which produces wine considered to be of such character that it deserves its own appellation. A cru Beaujolais likely won't even say "Beaujolais" on the bottle (see above right); it will simply say Fleurie, Chénas, Moulin-à-Vent, Juliénas, Brouilly, Côte de Brouilly, Chiroubles, St-Amour, Regnié, or Morgon. Don't worry about trying to memorize these names (not that you were). In a wine shop of any size, they'll all be grouped together in the Beaujolais section. And cru Beaujolais wines are worth the hunt.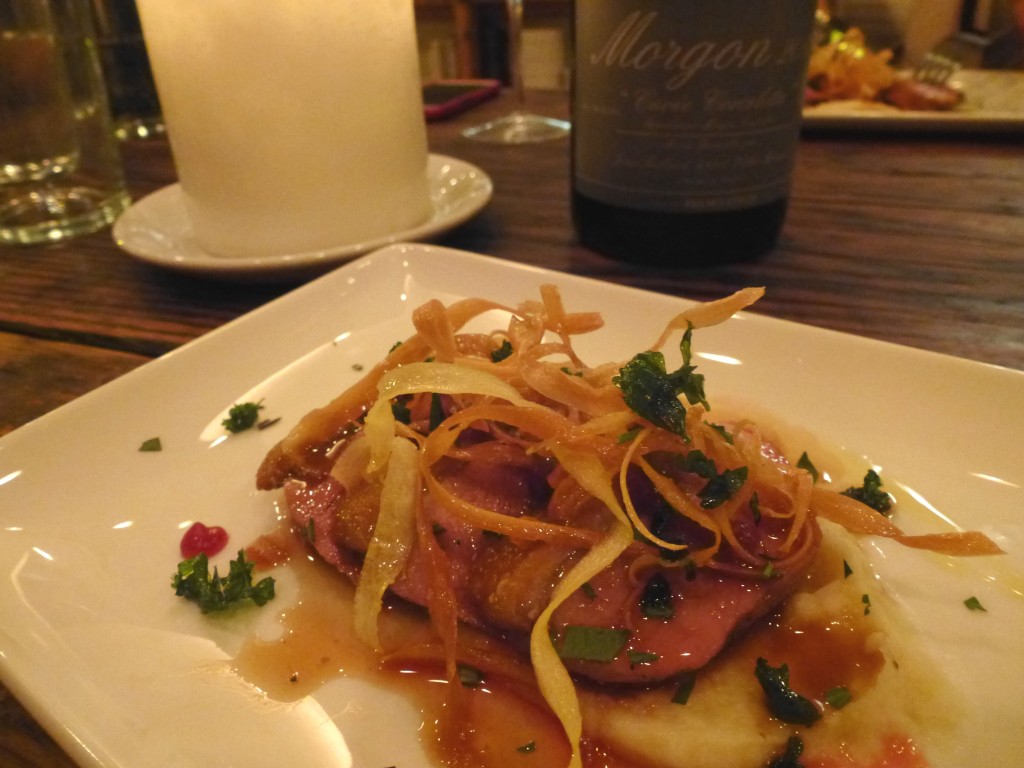 The Jean Foillard Morgon, imported by Kermit Lynch (a sign of quality), lived up to its cru designation. The nose had exciting dark fruit, black pepper and tobacco notes. The rich fruit continued through on the palate, where the wine exhibited significant but very controlled, focused power, like a semi-truck on a well-paved highway. Paired with a course of rich and tender duck breast with parsnip purée, crispy parsnip strips and cranberry gelée, the wine became even bigger, with black pepper and green peppercorn notes zinging to the fore.
While many start dinners with a glass of sparkling wine, Algren chose to finish this feast with one. He poured us each a glass of NV Bortolotti Lagrein, a brut rosé spumante from Valdobbiadene, that town in the Alpine foothills north of Venice famous for its Prosecco. Lagrein is the variety, which is grown on only about 750 acres nowadays, according to The Oxford Companion to Wine. It produces "fragrant yet sturdy" sparkling rosé (or "rosato" in Italian), the Companion notes, and the Bortolotti certainly had an aroma. It reminded me of cherry Robitussin. But it tasted bright and fun, with lots of red fruit and zippy acids.
Paired with a delectable dessert of apple cake with quince, cinnamon chips, cinnamon ice cream and a square of flourless mint-chocolate cake, the Bortolotti was "great." Sorry. By this point, my writing had degenerated into the shaky scrawl my notebook has come to expect towards the end of these sorts of dinners: "Salty, min-t (sic), choc (sic) — geat (sic) w/Lagrein" is all I've got for you.
Algren also gave us a second dessert pairing, a small glass of Carpano Antica, a sweet vermouth with an almost cult-like following among many bartenders. You can drink this vermouth straight, certainly. It tasted "Sweet, biter (sic), warming — fun!" And with that, Algren wisely cut me off.
It's a shame Algren has departed Urban Union, but I have no doubt that the restaurant's adventurous wine program will remain intact. Chef de Cuisine Joshua Marrell continues, as of this posting, to helm the kitchen, and if this dinner was any indication, he's a talent worth watching.
Note: The Urban Union staff was aware that my dining companions and I were food/wine bloggers, and we did not pay for our meal.