When considering what wine to pair with a meal, most of us consider whether a red or white would work best. A smaller percentage also toss sparkling and rosé wines into the mix. But precious few of us, myself included, give even a fleeting thought to "brown" wines, such as sherry or madeira. If any of you happen to own a bottle of one of these fortified wines, it's likely standing next to some seldom-poured liqueurs, collecting dust, waiting to be sipped with a slice of fruitcake or something. That's the sad state of my nine-year-old bottle of Pedro Ximinez, certainly.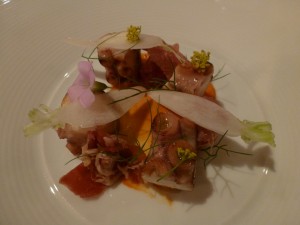 A dinner at New Orleans' fabulous Stella! showed me that it need not be so. I ordered the four-course tasting menu with the accompanying wine pairing, and I must admit it came as a bit of a shock to see a sherry paired, not with dessert, but with my first course of octopus, and then a madeira paired with my second course of veal sweetbreads. And by golly, they worked pretty darn well!
Both sherry and madeira require rather unorthodox production methods. Sherry, produced in and around the southern Spanish city of Jerez, ages in barrels, like many wines. In the case of Fino-style sherry, these barrels aren't filled to the brim. Partially filled barrels allow "flor," a layer of yeast, to form on top of the wine. This flor protects the wine from oxidation and also changes its flavor profile. (More strongly fortified Oloroso sherry is vinified without flor, but that's for another post.)
The particular sherry I tasted was a Manzanilla Pasada produced by Bodegas Hidalgo from a single vineyard called Pastrana (one of the best sites in the Jerez Superior District, according to the Hidalgo website). "Manzanilla" indicates that the sherry was produced in Sanlúcar de Barrameda, a seaside town cool enough for the flor to flourish all year long. "Pasada" indicates that the sherry has been aged longer than a Manzanilla but not as long as an Amontillado.
A straw/gold color, the Hidalgo Manzanilla Pasada "Pastrana" had enticing aromas of caramel, pear and a little funk. It tasted dry as a bone, with a nutty flavor, some eye-opening saline notes and prickly acids. The acids and the hints of salinity were what really made the pairing with the rich octopus work. My stars and stripes, I could practically feel the sea spray on my face! This wine won't appeal to everyone, but if you do like the nutty flavor of sherry, this startlingly dry version would make a great choice for an autumn dinner of fish with root vegetables.
UP NEXT: Aging wines in a sub-tropical attic instead of a cellar? It should be a recipe for disaster, but it works for madeira.
Fortified Wines, Restaurant Reviews Bodegas Hidalgo, Manzanilla Pasada, New Orleans, Sanlucar de Barrameda, Sherry, Stella!