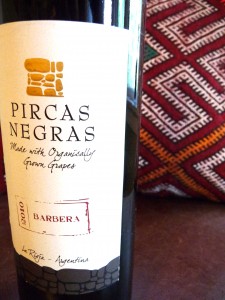 Recently I walked into Evanston's southerly Whole Foods expecting to buy just a few groceries, but I discovered a deal too good to pass up:  20% off cases of wine, including wines already on sale. I nearly cleaned the place out.
One oddball that caught my eye was an organic Barbera with a Spanish name: Pircas Negras (roughly "black stone wall").  Reduced from $13 to just $8 after all the discounts, I could hardly pass it up.
Barbera first appears in the historical record as "barbexinis" in 13th-century contracts leasing the local vineyards of Casale Monferrato in Italy's Piedmont region. The varietal still features prominently in the region, giving its name to three DOC areas: Barbera d'Asti, Barbera d'Alba and Barbera del Monferrato (unfortunately the latter can be more difficult to find in the U.S.).
What was this Italian varietal doing with a Spanish name? The Pircas Negras hails not from Piedmont but from La Rioja. But not that La Rioja.
Many of us, myself included, think almost exclusively of Mendoza when we think of Argentinean wines. André Dominé's Wine actually lists ten wine-growing regions: Jujuy, Salta, Cafayate, Tucumán, Catamarca, La Rioja, San Juan, Mendoza, La Pampa and Rio Negro.
About seven hours by car north of Mendoza, La Rioja "..is the oldest of the wine-producing provinces and produces an attractive Torrontés," according to Dominé. But Barbera in La Rioja, or for that matter anywhere in Argentina, warrants barely a footnote. Dominé tepidly ventures that "…Barbera and Sangiovese [have] the potential to make good-value, everyday reds."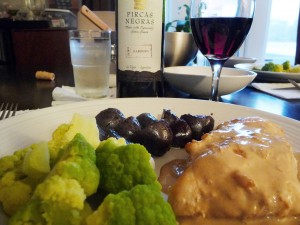 A recent Tuesday evening with a friend seemed perfect for a "good value, everyday red," but Tuesday or not, my friend doesn't tend to make everyday food. He prepared some beautiful roasted purple potatoes, steamed green cauliflower and "Chicken Breasts Diable" from Dorie Greenspan's excellent cookbook Around My French Table. This last recipe features a luscious sauce of butter, shallots, mustard, Worcestershire sauce and cream, with a flavor not unlike Steak Diane.
Though not quite matching the tasty heights of my friend's dinner, the 2010 Pircas Negras Barbera turned out to be charming and easy to drink, with cherries and strawberries on the nose that continued through to the palate. Light enough to work with the chicken, the wine tasted fruity and uncomplicated. With a slight chill, it was just the thing for a warm weekday evening; not life-changing, but fun.
SUMMARY
2010 Pircas Negras Barbera: I wouldn't go out of my way for this wine, but it's a fun, fruity quaff that works just fine for a casual evening. Chill in the refrigerator 20 minutes before serving.
Grade: C+
Find It: I purchased this bottle at Whole Foods Evanston South. The usual price is $13, but as of this posting it's on sale for $10. (With the 20% case discount, I paid $8.)
Argentina, Barbera Around My French Table, Chicken Breasts Diable, DOC, Dorie Greenspan, La Rioja, La Riojana Cooperativa, Pircas Negras