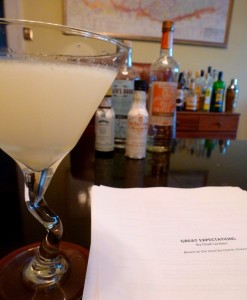 An old friend sent me a script to read, and I needed a little nipper to make sure my editing skills were at their peak. I went through the cocktail menu in my mind to come up with something appropriate for the occasion. But then I thought, eh, the heck with it. I had some extra limes on hand, so I shook up a lovely Pegu Club.
This cocktail, named after a colonial British club in Rangoon, Burma, has nothing whatsoever to do with my friend or the script he sent, but gosh, it's delicious. It's elegant, but it has a whiff of the exotic, composed of gin, orange curaçao, fresh lime juice, Angostura bitters and orange bitters.
Eric Felten introduced me to this cocktail in 2007, back when he was writing his excellent weekly "How's Your Drink" column. Felten confirms that this cocktail did indeed originate at Rangoon's Pegu Club, though if it exists, this genteel (and at the time, whites-only) watering hole no longer exists. It either burned down during a 1941 Japanese air raid, or was taken over by the Burmese army. It's rather odd that Wikipedia can't definitively say whether it still stands, but then Burma isn't the most open of countries. You can view an old postcard of the club here.
New Yorkers (of any race) can visit a lounge called the Pegu Club in Soho any time they like, and imbibe what is doubtless a stellar version of this cocktail. But those of us stuck in the provinces can make a perfectly delightful version at home:
The Pegu Club (according to Eric Felten):
2 oz. Gin
3/4 oz. Orange Curaçao
3/4 oz. Fresh Lime Juice (about one whole lime)
1 Dash Angostura Bitters
1 Dash Orange Bitters
Pour all the ingredients into a cocktail shaker, and shake vigorously with ice. Strain into a martini glass (or even a small margarita glass), and garnish with a lime wedge, if you're feeling fancy.
I was not feeling fancy, I feel bound to admit, and I used neither the lime wedge nor the orange curaçao. I had only lowly triple sec on hand. At least it was Stirring's "all natural" triple sec, "infused with sun-ripened oranges" rather than spiked with orange-flavored chemicals.
I have made the drink properly in the past, and I'm sure the orange curaçao made for a finer cocktail. But this natural triple sec sufficed for a Wednesday night Pegu Club. One thing I would never compromise on, however, is fresh lime juice. Use Rose's Lime Juice, bottled lime juice or sour mix at your peril.
Careful cocktail composers will be rewarded with a wonderfully refreshing and complex drink. The tartness of the lime, the aromatics of the gin, the roundness from the orange curaçao (or triple sec), the depth of flavor from the two kinds of bitters — it all combines into a drink that's fun but undeniably adult.
Cheers!
Cocktails, Gin, Orange Curacao, Triple Sec Burma, Classic Cocktails, Eric Felten, Pegu Club