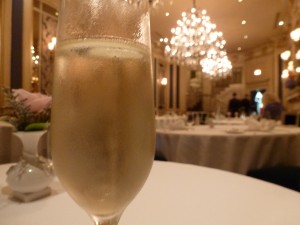 Philadelphia may mix a mean cocktail, but the wine scene isn't too shabby either. I was delighted to discover that most restaurants I visited had something unusual on their wine-by-the-glass menus, and I availed myself of the opportunity to try a number of deliciously odd vintages.
For your vicarious pleasure, a six-course tasting menu complete with wine pairings:
COURSE 1: Languedoc Blanc de Blancs
To start, a non-vintage Jean-Louis Denois Brut Blanc de Blancs from France's Languedoc region, sampled at Le Bec Fin. A wine from this rather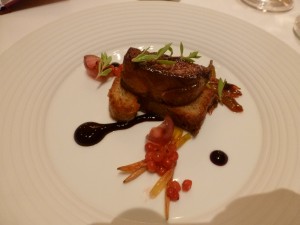 humble region seemed almost out of place at this relentlessly formal restaurant, where a bust of Marie Antoinette peers unironically at diners through cascades of crystal chandeliers. Even today, inconsistent Languedoc produces vast seas of boring vin ordinaire as well as exciting terroir-focused varietals (unusual in a country known mostly for blends).
In keeping with Languedoc fashion, this varietal sparkling wine is 100% Chardonnay, as indicated by the words "Blanc de Blancs" on the label. My initial feelings of suspicion were quickly assuaged. The wine had a rather green aroma, and it started tight and tart on the palate before opening up into flavors of apples and yeast. Bubbles felt prickly but elegantly small. Delicious. It cut right through the richness of some seared Hudson Valley foie gras, making for an excellent pairing. Even so, it's hard to get over the eye-popping $19 per-flute price tag. That's the average price for an entire bottle, according to Wine Searcher! Well, I suppose Le Bec Fin has to pay for all that gilt somehow.
COURSE 2: Grüner Veltliner
Next, a refreshing glass of Austria's most famous variety, Grüner Veltliner, sipped at farm-to-table sensation Talula's Garden. This food-friendly variety has a murky and fascinating history. Genetic testing revealed that one of its parents was Traminer, but the other parent remained a mystery for some time, until (at least according to Wikipedia) its other parent was found in the year 2000. Only a single vine of this parent variety remained, barely clinging to life in an overgrown pasture. Apparently, there are plans to try cultivating this mystery variety in the near future, and I can't help but feel pretty darn excited about that.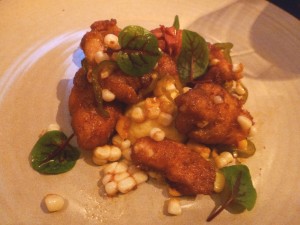 In the meantime, let's return to the 2010 Schloss Gobelsburg "Gobelsburger" Grüner Veltliner from Austria's Kamptal, a region north of the Danube along the Kamp River. According to The World Atlas of Wine, the Kamptal produces "rather livelier versions of Austria's two most famous dry white grape varieties" than the renowned Wachau.
This Kamptal Grüner certainly didn't disappoint. A greenish-gold in the glass, it smelled of green apples and funk. It tasted impressively focused — tart and juicy, with a white pepper kick and an underpinning of minerals. Paired with some tender, tangy sweetbreads, the wine really burst into life.
While purchasing these wines by the glass took a bit of a dent out of my wallet, either one would be a superb value in a retail shop.
NEXT UP: A zesty rosé at a French brasserie and a fruity sake courtesy of an Iron Chef.
Austria, Chardonnay, France - Languedoc, Grüner Veltliner Jean-Louis Denois, Le Bec Fin, Philadelphia Restaurants, Schloss Gobelsburg, Talula's Garden