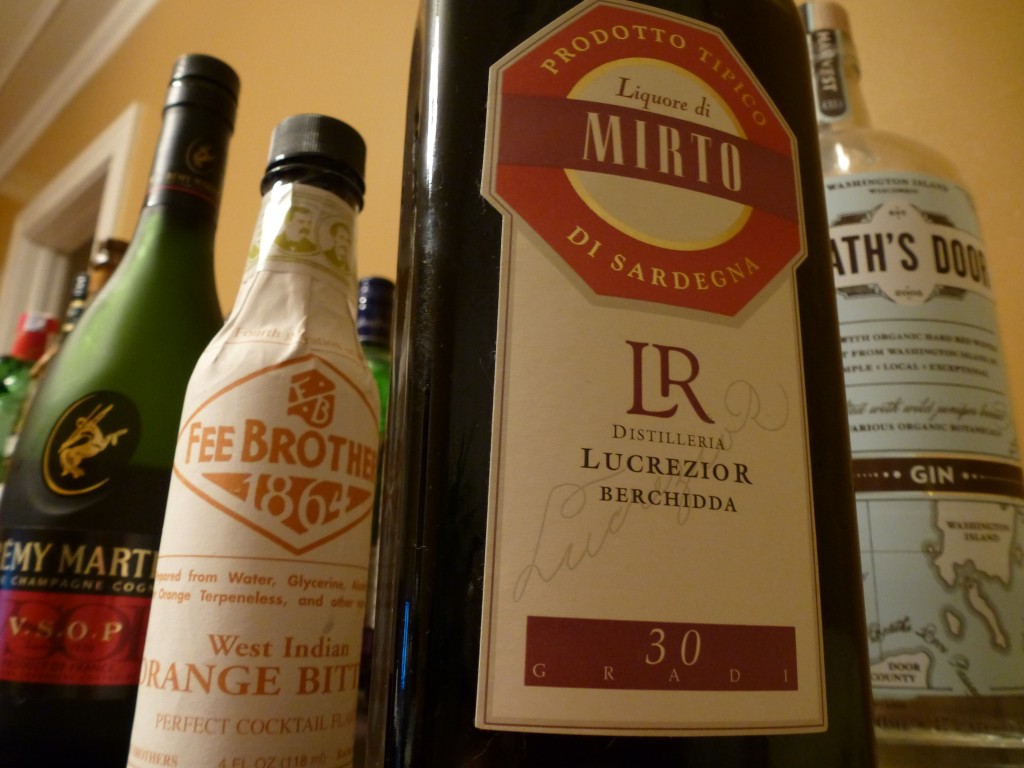 As is often the case, the name of this liqueur sounds better in Italian. "Liquore di mirto" has more power to stir the heart than "myrtle berry liqueur." Myrtle berry liqueur sounds like something I might try for the blog, since I haven't the faintest idea what a myrtle berry even tastes like, but it's not something I would see in a liquor store and snatch off the shelf. I tend to be suspicious of berry-flavored liqueurs — they're usually just too syrupy and sweet, occasionally veering towards the medicinal.
But on a cruise this past April, I had a port of call in Sardinia, the Mediterranean's second-largest island. I knew of three Sardinian specialties. First, wine made from the Cannonau grape, which one can find in the U.S. fairly easily. Second, Casu Marzu, a cheese made more… ripe? is that the word? …by allowing fly larvae to grow in the cheese and partially digest it. The cheese is typically consumed when the larvae are still alive. I consider myself strong of stomach, but after seeing a video of this cheese in action, I knew this option was out.
That left mirto, and I was determined to find some. Our guide, after showing us some mysterious megalithic ruins and picturesque resort towns, took me to a supermarket in a strip mall, and I procured a bottle. It was worth the effort.
I opened it recently with Scott, who assisted me with the Cherry Pie Martini, and we took a sip, not really knowing what to expect. It tasted of ripe cherries, something herbal, like eucalyptus perhaps, and cinnamon on the finish. It was positively delightful, both at room temperature and chilled (how it's usually served).
It seemed a shame to mix it with anything, but when alcohol is involved, shame is a feeling I can easily overcome. Gin seemed the most obvious place to start, since its botanicals would likely work well with the herbal qualities of the mirto. We came up with a very simple and absolutely delicious cocktail, which we dubbed, for better or worse, the Mirtini.
MIRTINI
2 parts gin (I used Death's Door)
1 part mirto
1/2 part fresh-squeezed lemon juice
Combine the above in a shaker filled with ice, agitate, and strain into a chilled martini glass. Garnish with a twist of lemon, if you're feeling extra fancy. The drink starts with bright notes from the botanicals in the gin and moves into the more grounded, darker notes of the mirto before finishing with a flash of brandied cherries and cinnamon. The lemon holds it together, providing necessary texture and enhancing the flavors.
We thought the cherry notes of the mirto could also work with something brown, in the manner of a Manhattan. Cognac seemed like a good place to start, since brandy and cherries seem made for each other. Here we used mirto in the place of sweet vermouth in a Manhattan, and came up with, if you'll forgive us, the Mirhattan.
MIRHATTAN
2 parts Cognac
1 part mirto
3-4 dashes orange bitters
Combine the above in a shaker filled with ice, agitate, and strain into a chilled martini glass. Garnish with a slice of orange peel, if you like. Scott remarked that the cocktail smelled "like expensive soap," and I was hard pressed to disagree. Nevertheless, it tasted round, rich, spicy and sweet. It was great fun, and perfect for the cooler weather.
If you can get your hands on some mirto, by all means buy it. It's delightful by itself, and I have a feeling the two cocktails described above are only the beginning of its mixological potential. Type in the words "mirto liqueur" into a search engine, and you'll find some U.S. retailers which sell it, typically for $25 to $30.