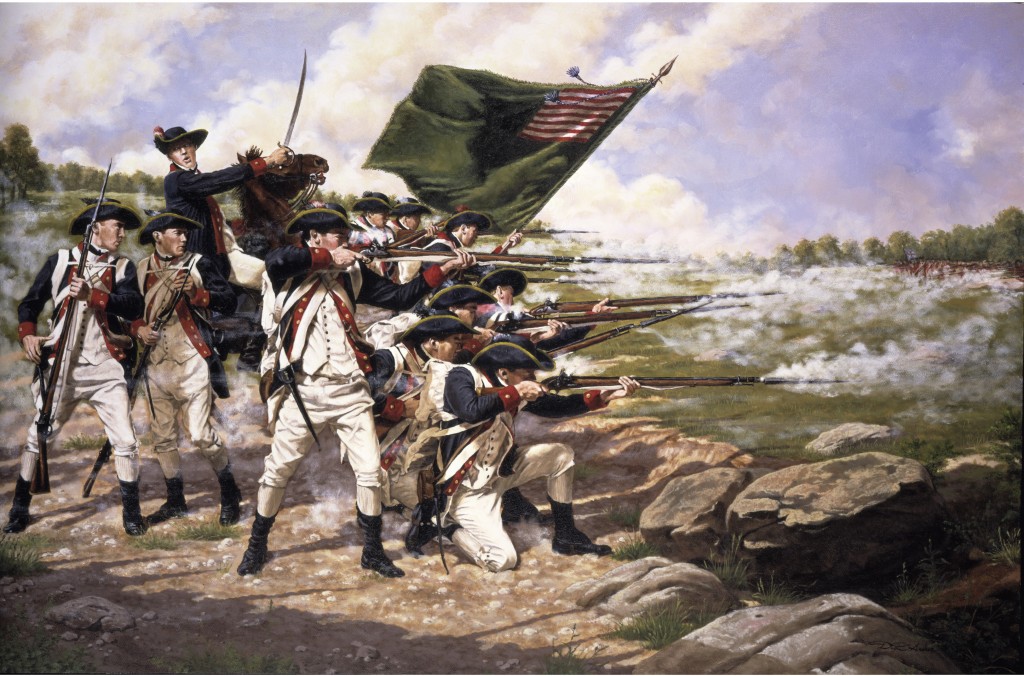 Note: This is a repost from last year, with some modifications. I can't think of a better drink for the 4th than this.
If I were to be perfectly honest, I would recommend cracking open a refreshing bottle of dry rosé with your July 4th barbeque. This is very likely what I'll be drinking, but frankly, dry rosé seems too effete, too continental, for celebrating America's Independence Day. We didn't gain our independence by playing nice with the Brits, negotiating at endless length, relying on the hope of their essential good nature.
No longer able to bear, among other indignities, taxation without representation, our ancestors risked their lives and the well-being of their families so that we could live as a free people. They took up arms and kicked those colonial bastards out of the country by force, because force is the only language tyrants comprehend.
No, as delightful as dry rosé may be, it does not rise to the task of commemorating the wisdom, bravery and strength of our foremothers and forefathers. Independence Day calls for something unabashedly powerful and unashamedly American. Something with a bang. Something like Artillery Punch.
The first time I had Artillery Punch was at a friend's holiday party. I remember consuming only about two glasses of the punch (along with, admittedly, a fistful of rum balls), before we all decided it would be a great idea to strip off our Christmas sweaters and take some topless group photos. It's that kind of punch.
A number of recipes published in books and on the Internet purport to be Artillery Punch. Some, like this one, incorporate tea and cherries into the mix. This one goes further by adding pineapple as well, which to my mind dilutes the 18th-century revolutionary je ne sais quoi. Both recipes also make use of gin, an altogether too British spirit for this occasion.
I prefer to relate the simplest (and strongest) recipe I found, the dangerously delicious concoction described in David Wondrich's Punch. Mr. Wondrich found this recipe in an 1885 copy of the Augusta Chronicle, which describes how Artillery Punch was created by a certain A.H. Luce in honor of Savannah's Republican Blues visiting Macon's Chatham Artillery sometime in the 1850s. It makes use of that very French spirit Cognac, but since the French were our allies, a bit of Cognac seems appropriate.
The original recipe calls for a horse bucket "of ordinary size" to be filled with crushed ice, whiskey, rum, bourbon, sugar and lemon, and then topped off with Champagne. Should you have a horse bucket of ordinary size at your disposal, I have no doubt it would be the hit of your barbeque, but failing that, an ordinary large punch bowl will do:
David Wondrich's Artillery Punch (as adapted by Odd Bacchus):
12 lemons
2 cups raw sugar (the larger crystals of raw sugar are useful, but white sugar will also work)
1 bottle Cognac (Mr. Wondrich recommends VSOP, but the budget-conscious should opt for VS)
1 bottle Jamaican-style rum
1 bottle bourbon
3 bottles brut Champagne (or sparkling wine, for heaven's sake)
1 bag of ice
Using a vegetable peeler, zest the twelve lemons, making the peels broad and long and as free of the white pith as possible. In a mixing bowl, muddle firmly with the sugar to extract the peels' essential oils. Let the mixture stand in a warm place for 30 minutes to an hour.
Meanwhile, juice the 12 lemons. You'll need about a pint of juice, so it's wise to have a few extra lemons on hand. (Note that store-bought lemon juice will not be a good substitute.)
Add the lemon juice to the sugar/peel mixture and dissolve the sugar. Once the sugar is completely dissolved, pour the mixture through a strainer into another bowl in order to remove the peels. Using a funnel, empty the contents of the bowl into a clean wine bottle (or other 750-milliliter bottle) and top up with water. Cork, and refrigerate.
The above steps can all be done in advance of the party, and the sugar/lemon mixture will keep in the refrigerator for a few hours or even overnight.
Just before you want to serve the punch, fill a large punch bowl halfway with crushed ice (bash the bag of ice on the floor a few times to get smaller pieces, or hit it with a mallet). Add the bottle of sugar/lemon mixture and the bottles of Cognac, rum and bourbon. Top off with the three bottles of Champagne. As noted above, it need not be real French Champagne, but it should be a quality dry sparkling wine of some sort — don't skimp too much here. A fine Cava could work, for example.
This thoroughly delicious punch goes down with surprising ease, so be sure to warn your guests of its strength. It's enough to knock the socks off even the most self-confident of tyrants.