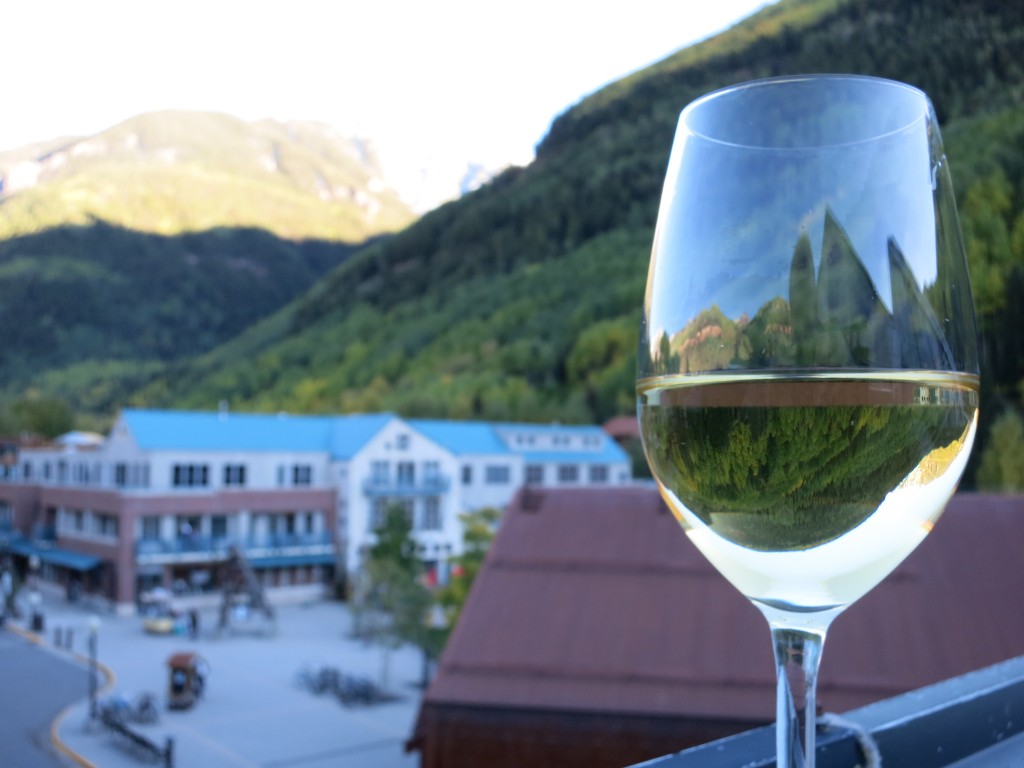 There were many things I looked forward to when I recently journeyed to Colorado, but I must admit local wine was not one of them. I didn't even bother to check my reference books before I left to see if anything might be happening in Colorado in terms of wine, because my goals were more about hiking, fresh air and steaks from unusual animals like elk and buffalo.
Had I cracked open my Oxford Companion to Wine — always a good idea before heading off on a trip to pretty much anywhere — I would have discovered that "Colorado's increasing vineyard area (nearly 1,000 acres) and growing number of wineries (over 50) are beginning to provide wines of quality to its major tourist market as well as Denver…"
I suppose after my experiences in Arizona and New Mexico, finding "wines of quality" in Colorado should have been no surprise. However, The Oxford Companion goes on to say that Colorado's "dry conditions allow healthy vinifera production but varieties have yet to produce characterful wines despite a usefully hot growing season." Which isn't especially encouraging, despite the Companion's seemingly contradictory listing of grape varieties which "have all produced wines of interest" in Colorado.
I checked my other resources to see if they agreed with this mixed assessment of the state of Colorado wine. The World Atlas of Wine mentions Colorado only on a map indicating the acreage under cultivation and the number of wineries. Nor does the ever-comprehensive Sotheby's Wine Encyclopedia have much to add. It simply notes that "The growing season in most of Colorado is too short to permit grape-growing," and that there is nevertheless an AVA called Grand Valley, located just west of the city of Grand Junction in the western part of the state.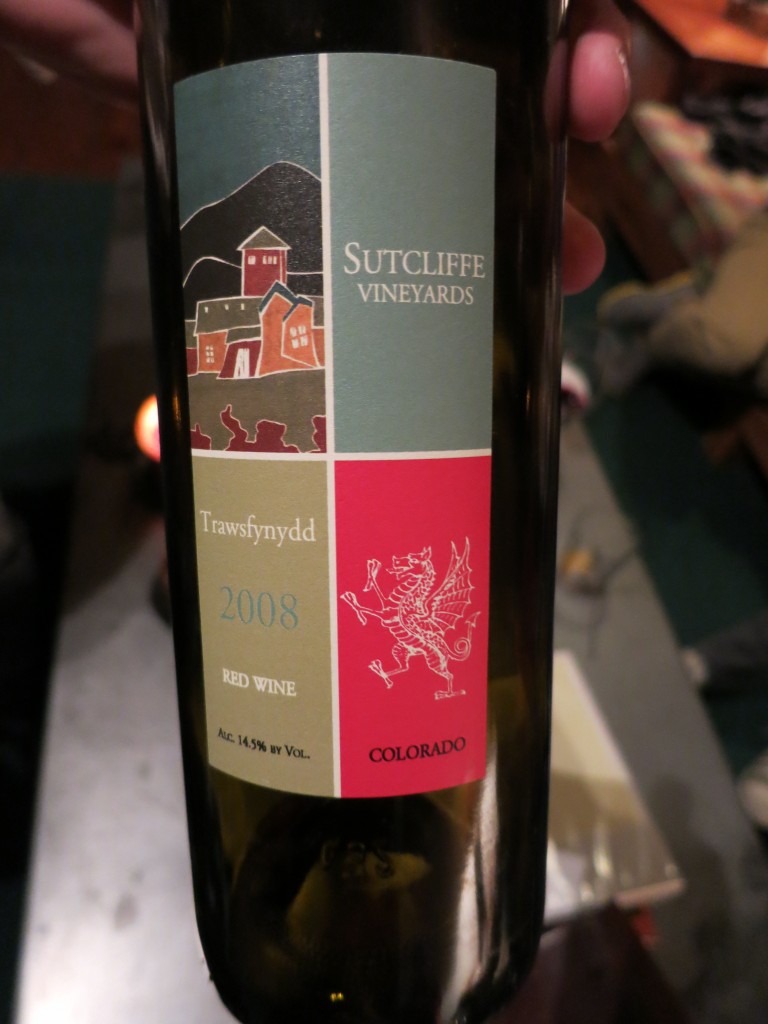 I felt too anxious to reach the mountains to linger in the Grand Valley AVA touring wineries, but I did finally encounter some Colorado wine quite by chance at a resort west of Telluride called Dunton Hot Springs. The property owns a winery called Sutcliffe Vineyards, which has either 22 or 36 acres of organically farmed vineyards, depending on which page of its website you believe, located near Cortez, Colorado, in the Four Corners region (far to the south of the Grand Valley AVA). You can see a map of the location here, along with a hand-drawn map of the vineyards themselves.
According to the "rants" page of the Sutcliffe website, owner John Sutcliffe didn't originally intend to start a winery. The gentleman who designed his house recommended planting vineyards around it, which he did. The vineyards bore fruit, Sutcliffe decided to vinify it, and Sutcliffe Vineyards grew from there.
What luck that Sutcliffe's designer recommended planting those grapes. The Sutcliffe wines I tried were quite good, and in some cases quite memorable: Before dinner, a fellow guest planning on proposing to his girlfriend that evening opened some very fine reserve bottles, and he poured tastes for the rest of us at the bar. Here's a list of what I tried:
2011 Sutcliffe Pinot Gris: The fruit for this wine actually comes from Carneros, an AVA just south of Sonoma in California, making the Pinot Gris the least interesting to me of the bunch. It had a fresh, green aroma undergirded by dried herbs, and a flavor profile of lush fruit contrasted with focused, almost prickly acids. Well-made, but I'm not sure why you would spend $25 on it, especially considering the origin of the fruit.
2012 Sutcliffe Sauvignon Blanc: This Sauvignon Blanc had real character, with a nose of moist, funky grass and flavors that moved from musky to sweet to chalky to tart. It paired well with a bright salad of local greens. $25.
2011 Sutcliffe Riesling: If you avoid Rieslings because you think they're too sweet, this is the Riesling for you. It had a limey aroma, citrusy fruit on the palate and a dry finish. There was little if any sweetness at all, but I found it refreshing, and the acids would surely work well with food. $25.
2011 Sutcliffe Cinsault: Cinsault comes originally from France's Languedoc region in the far southwest. It may seem odd to find a grape from southern France in Colorado, but as The Oxford Companion notes, Cinsault "has good drought resistance," making it a likely candidate for Colorado's generally dry climate. The last few Cinsaults I've tried haven't thrilled me, and this was alas no exception. I smelled a lot of black pepper on the nose, and the red-fruit flavor became overwhelmed by black pepper notes. It felt unbalanced, this wine, though it mellowed a bit when paired with some scallops in curry sauce. $27.
2009 Sutcliffe Petit Verdot: This variety comes from France's famed Bordeaux region, also in the southwest section of the country. It's most often seen in blends, but Petit Verdot varietals make increasingly common appearances, which is no bad thing. This version had a pronounced vanilla note in the aroma, along with some creamy red fruit. It tasted wonderfully rich and tannic, and my goodness, for just three more dollars a bottle, I would much rather drink this than the Cinsault. $30.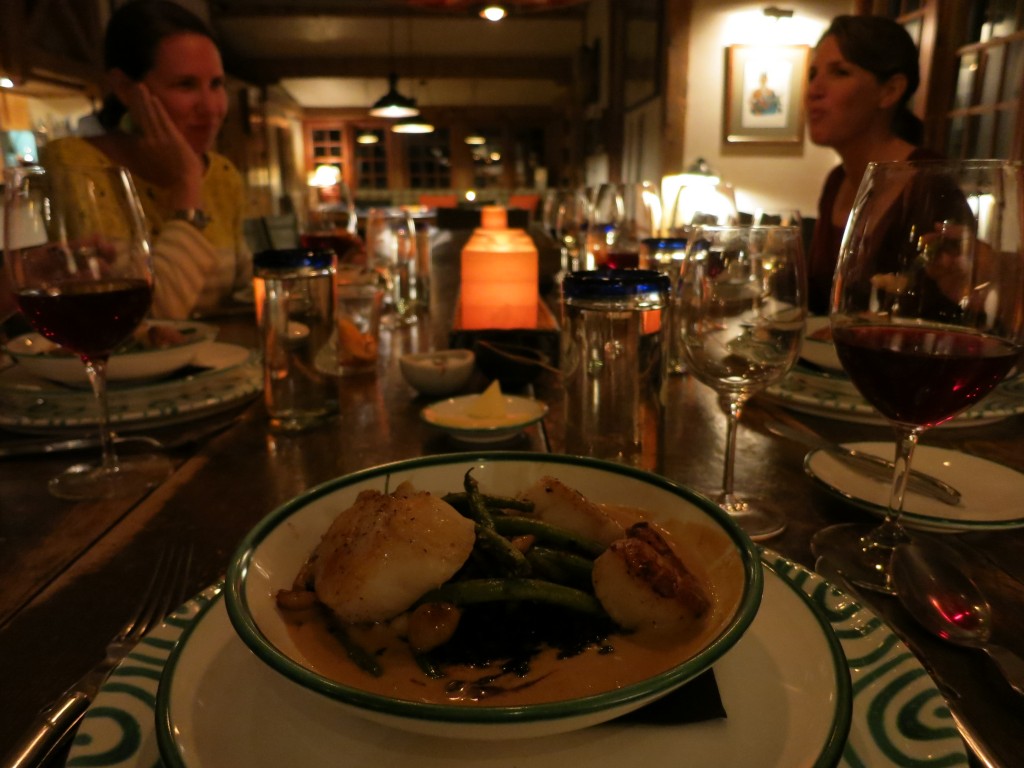 2009 Sutcliffe Field Blend: Most blends occur in the winery, with a winemaker choosing so much of this and so much of that. A field blend occurs in the vineyard, blending whatever grape varieties happen to be growing together. This wine "gives the true taste of McElmo Canyon," according to the Sutcliffe website. I loved its rich, dark-fruit aroma, and there again was that rich, creamy fruit on the palate. It had elegantly soft tannins and a dry finish, and it became even bigger and richer when paired with some "truffle tremor" cheese. $35.
2009 Sutcliffe Trawsfynydd: Named for a village in Wales — perhaps the ancestral home of the Sutcliffes? — this blend incorporates every Bordeaux variety except Malbec, according to the Sutcliffe website. The evening was wearing on, which means my notes became more melodramatic. This wine smelled "dark and mysterious," I wrote, and there again was that signature dark, creamy fruit. Well-balanced, very controlled, and certainly worth its $38 price tag.
NV Sutcliffe Doce Pecado Port: "Doce Pecado" translates as "Twelve Sins," according to Google Translate, and it did indeed feel a little decadent to drink this port-style fortified wine. It tasted rich but not heavy, with underlying tones of wood and something savory. A fine match for some cherry pie with cinnamon and ginger. $25 for a half-bottle.
It's difficult to generalize about all of Colorado based just on Sutcliffe's bottlings, but clearly these wines show that Colorado has the potential to make some very tasty wines indeed. The state has a long way to go before it becomes known for its wine, but with Sutcliffe, it's off to an excellent start.