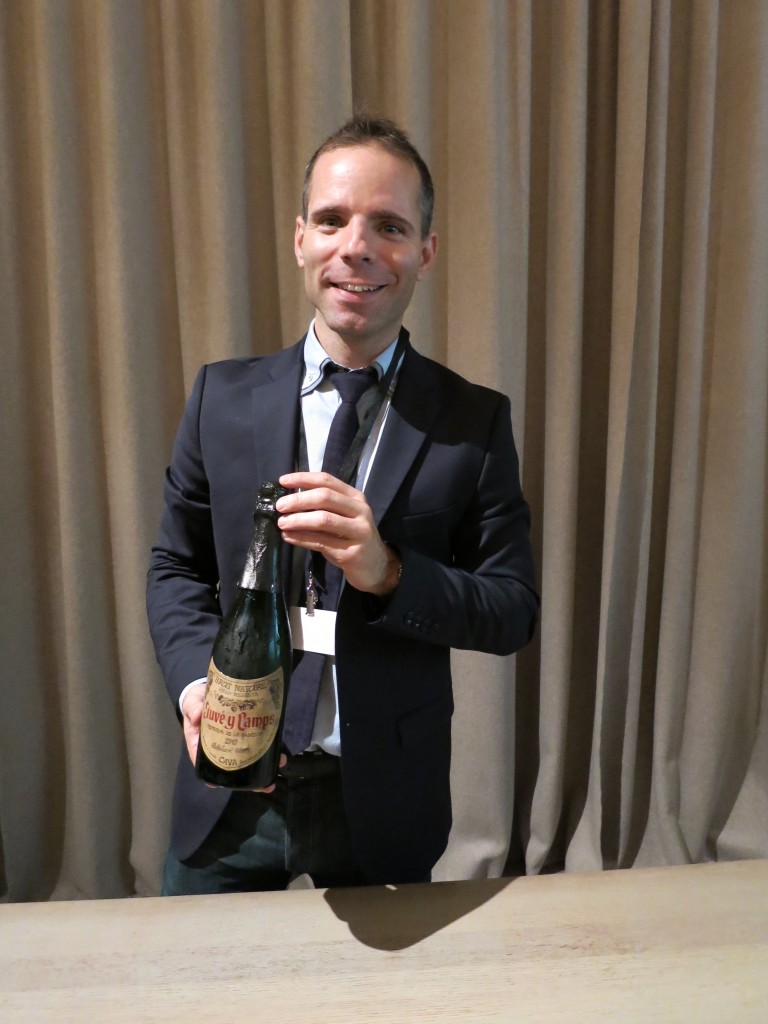 It is unquestionably celebratory to hear that most beautiful of all sounds, that of a cork pop, and bubbly deserves its status as the most festive of all wines. Prosecco appears at parties more frequently now, and Champagne corks whiz through the air on New Year's Eve. But considering all we Americans have to celebrate, we serve sparkling wine relatively rarely. This is an error.
First, sparkling wine goes well with such a wide variety of foods, it's quite difficult to screw up a pairing. When in doubt, go with the bubbles. Second, guests love sparkling wine, regardless of the occasion for their visit. It makes them feel special. Third, it can be a fantastic value for the money. It's not affordable for most of us to drink Champagne any time we feel like it, but there are plenty of other fine sparkling wines available for weeknight prices. Cava is one of them.
I recently tried six superb Cavas produced by Juvé y Camps, which, according to the promotional materials I received, uses fruit only from its own vineyards (most Cava producers, like those in Champagne, buy fruit from independent growers). Juvé y Camps also hand-riddles all its bottles, a labor-intensive process now performed by machines in most wineries, and it uses free-run juice, collected without pressing the grapes. According to The Oxford Companion to Wine, free-run juice "is generally superior to, and much lower in tannins than, juice or wine whose extraction depends on pressing."
In the 2007 Sotheby's Wine Encyclopedia, author Tom Stevenson is more than usually grumpy about Juvé y Camps, writing, "I have failed to discern any of the intrinsically superior qualities in these wines that some Cava-infatuated critics have found. However, I do hasten to add that there is nothing wrong with the wines of this respected, traditional family firm." I'm no Cava-infatuated critic — I rarely buy them, as a matter of fact, because I (rightly or wrongly) associate Cava with large bubbles. But I thought Juvé y Camps' Cavas were quite delicious and elegant, whatever Mr. Stevenson has to say.
2010 Reserva de la Familia: You'll encounter vintage-dated Cavas far more frequently than vintage Champagnes or Proseccos. This example includes the three traditional Cava grape varieties, Macabeo, Parellada and Xarel·lo, and it includes no dosage, the mixture of wine and sugar syrup added to most méthode Champenoise wines at the final stage of production. A dosage can smooth over certain flaws in a sparkling wine, in addition to adding some sweetness. Omitting it entirely is risky; as Juvé y Camps' Export Area Manager Oriol Gual explained, "It's like working without a safety net." Juvé y Camps crossed the tightrope with this wine, certainly. It had a surprising and very pleasant aroma of light caramel, popcorn and orange peel. Elegant and zesty on the palate, it exhibited prickly bubbles and notes of citrus and light toast.
2009 Gran Juvé Reserva Brut: Aged 60 months on the lees and made only in the best vintages, this Cava includes the unorthodox variety of Chardonnay in with the traditional Spanish blend. It felt very classy, with a toasty, citrusy aroma, sharp bubbles, and a dry but perfumed quality — there were notes of orange flowers and stone fruits. Delicious and refined.
2010 Blanc de Noirs Brut Reserva: Unusually for a Cava, or any sparkling wine, for that matter, this bottling blends 90% Pinot Noir with 10% Xarel·lo (Cava producers have been experimenting with the traditional Champagne varieties of Pinot Noir and Chardonnay in recent years). This romantic sparkler had a tight aroma of candied berries, or as one fellow taster exclaimed, "It's like that dust in straws!" (he meant Pixy Stix). Spicy but elegant, it had tiny, pointy bubbles, some subtle red-fruit undertones and chalk on the finish.
NV Pinot Noir Brut Rosé: This 100% Pinot Noir had a lovely watermelon color and aromas of berries and orange zest. It was fruity but dry, with orangey acids and very small, classy bubbles. An excellent choice for date night — I could easily picture snuggling up by the fireplace with this one.
NV Juvé Sweet: During my time at the Juvé y Camps tasting table, several people expressed skepticism about this Cava. A lot of experienced wine drinkers look down on sweeter wines, regarding them as uninteresting or simply for amateurs. They may be unfashionable, but by ignoring them, you deny yourself an entire range of beautiful and well-balanced wines. In this case, I enjoyed Juvé Sweet's fresh, cheerful aromas of white fruits, and its sweet but non-cloying character. It had balanced acids, a bit of perfume and small, refined bubbles. This Cava would make an excellent aperitif — it's a more sophisticated alternative to Moscato d'Asti.
Many of these wines cost far less than you might expect, considering the quality and the labor required to craft them. Binny's, for example, sells the Reserva de la Familia and the Brut Rosé for $15 a bottle. I think that's cause for some celebration.