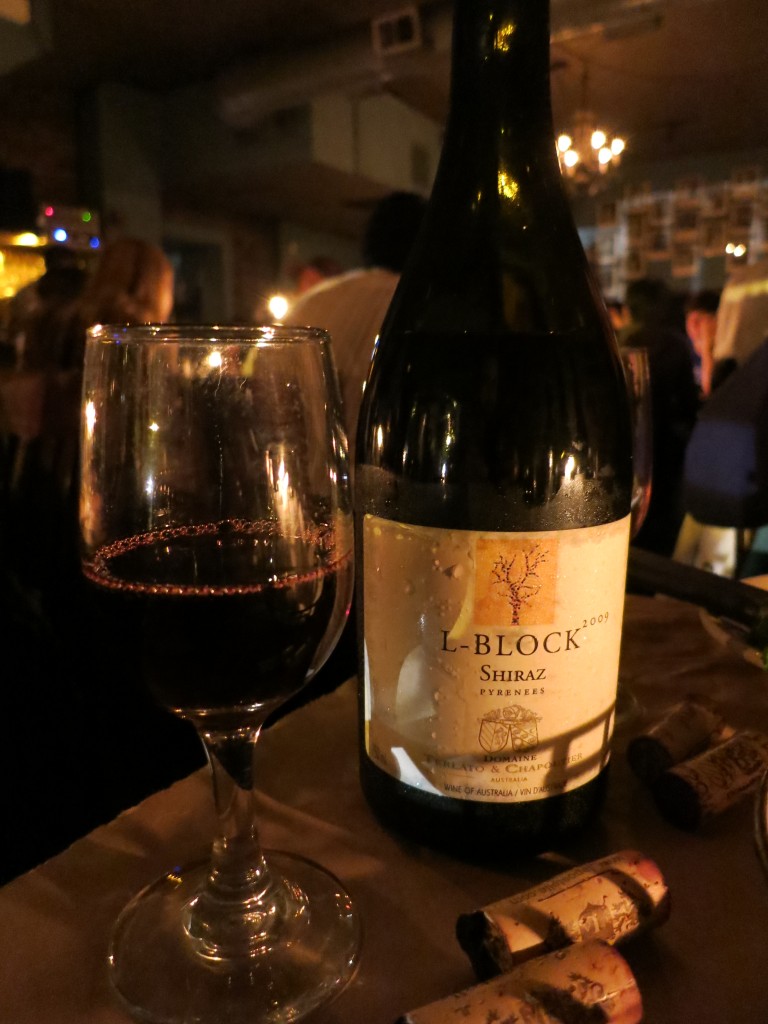 My first instinct, when offered two complimentary samples of some Australian Shiraz, was to decline them. Australian Shiraz is one of the least unusual wines I can think of, right up there with Napa Cabernet. But these were from Domaine Terlato & Chapoutier, and that winery's 2012 Shiraz-Viognier ranked among my Top Red Wines of 2013. Just as important in my decision to write about the samples, these Shirazes weren't from one of Australia's more well-known wine regions. They came from Pyrenees.
I think of "the Pyrenees" as the rugged mountain range dividing Spain and France, but it is also "the (ironic?) name of the rolling landscape to the east of the Grampians" in Victoria not far from Melbourne, as The World Atlas of Wine explains. "Formerly known as the Avoca district," according to The Sotheby's Wine Encyclopedia, Pyrenees is "…red-wine country, making wines of a distinctive and attractive minty character." The Oxford Companion to Wine is even more complimentary of the region, arguing that "The Pyrenees on the eastern side can provide Shiraz and Cabernet Sauvignon every bit as sumptuous as that of Heathcote or Bendigo…"
Acclaimed Rhône winemaker Michel Chapoutier visited the area in 1998, and he was immediately taken with a certain undeveloped stretch of land that received ample sunlight mitigated by cool breezes. Already in a beneficial business relationship with Anthony Terlato, Chapoutier telephoned him, exclaimed something to the effect of, "You gotta see this!" and exhorted Mr. Terlato to get on the next plane to Australia, as Liz Barrett, Terlato's Vice President of PR, related to me over a recent dinner. Anthony's son Bill flew down, and Domaine Terlato & Chapoutier was born.
Over the next two years, they planted mostly Shiraz in what became known as the Malakoff vineyard. Notably, these vines grow on their own ungrafted rootstock, since Pyrenees is unafflicted by phylloxera. This destructive louse requires most of the world's vineyards to be planted on American rootstocks, making the Malakoff vineyard unusual indeed.
Barrett and I tasted two of Domaine Terlato & Chapoutier's wines over a delicious steak dinner at Chicago's Tango Sur, and they proved to be an excellent accompaniment to the beef. First, we tried the 2011 Lieu Dit Malakoff Shiraz which runs about $50 a bottle. It smelled of deeply dark fruit, and there was a meatiness to the aroma. Barrett exclaimed, "Raisinettes!" and she was quite right. This is a masculine, muscular wine with ample ripe fruit, lots of black pepper spice and some underlying freshness, all under very tight control. That control is what elevates this wine above many other Australian Shirazes I've tasted, and justifies the price tag.
We also sampled the 2009 L Block Shiraz, named for a certain L-shaped section of the vineyard with more slate and iron in the soil. It smelled big, deep and juicy, with notes of hearty black cherries. Barrett took a sip and remarked, "It's a he-wine," and indeed, there was something masculine about this Shiraz as well. It had ripe raspberry-jam fruit, black pepper spice, strong but supple tannins and raisins on the finish. It was big and ripe but wonderfully light on its feet, with a lively mouthfeel. I could see why this wine fetches around $60 a bottle.
If you're planning a special dinner for your partner, or just want a really beautiful wine to cozy up with on a chilly autumn evening, either of these unusual Shirazes would be an excellent choice. If $50 is beyond your budget, opt for the Domaine Terlato & Chapoutier Shiraz-Viognier instead. For about $18, it's one of the best red-wine values available anywhere.