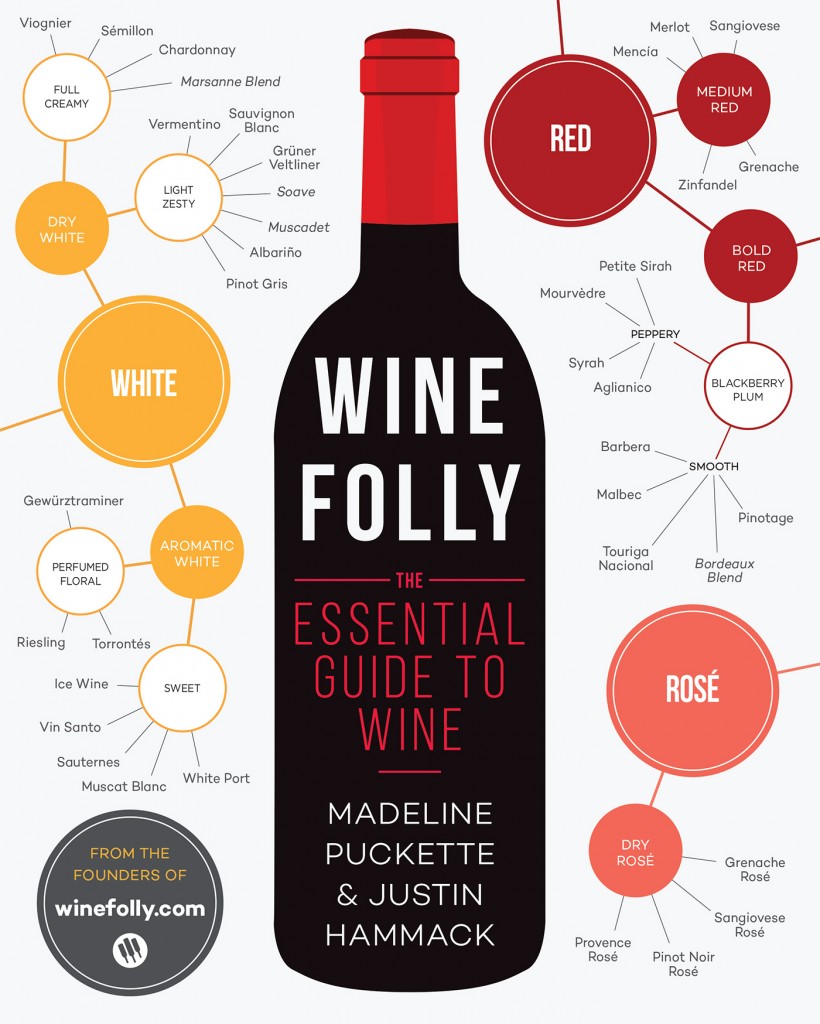 With all the wine books floating around out there, you need to make a compelling case to write a new one. Madeleine Puckette and Justin Hammack do just that with Wine Folly: The Essential Guide to Wine, released on September 22. I met the engaging Puckette at the recent Wine Bloggers Conference in New York, and impressed with her presentation, I was eager to see how her book turned out. I'm happy to say that I can recommend it, especially to someone interested in wine but not especially knowledgeable about it.
What makes this book different from other heftier wine reference guides is its use of clear and easy-to-decipher graphics in order to convey information about everything from flavors to glassware. I especially liked the flavor wheels accompanying each of the descriptions of 55 various single-varietal wines and blends. Organized into categories such as "Herbal/Floral," "Oak" and "Tertiary," these wheels clearly organized the numerous flavors one might encounter in a particular wine. Those who sometimes struggle with picking out and describing flavors and aromas (and that's most of us) will surely find it useful to sit down with a glass and the corresponding wheel to get hints about what we might be tasting.
Besides covering wine varieties and 12 wine-producing countries, Wine Folly includes sections on Wine Basics, Tasting Wine, Handling Wine and Food and Wine Pairing. Of these, the section on "How to Taste" is especially strong, including detailed descriptions of how to glean information from a wine's appearance, what to look for in an aroma (including an excellent page on identifying wine faults) and how to differentiate among acidity, tannins and alcohol. I also appreciated the sections on Serving Wine and Wine Temperature — there are more than a few restaurants I can think of which would benefit from a review of these pages.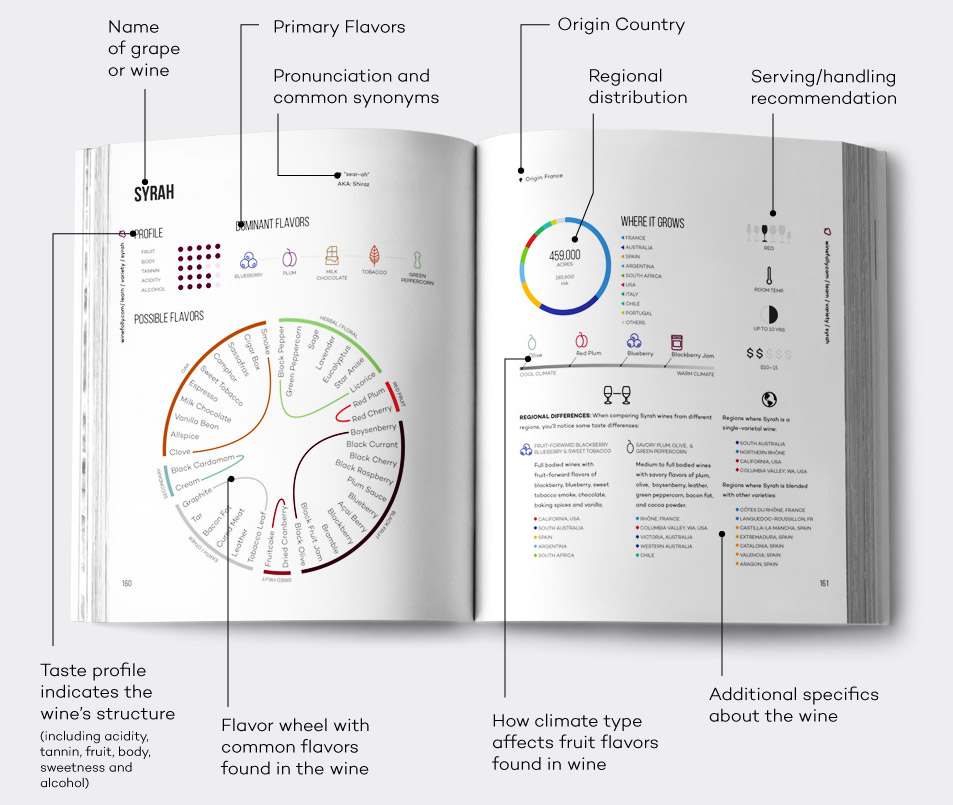 The two-page spreads devoted to the different wine varieties also contain useful information. The Syrah page (right), for example, lists the main countries where the grape grows, accompanied by a graphic indicating what percentage is planted where. A "Profile" graphic shows the amount of fruit, body, tannin, acidity and alcohol you find in an average Syrah, and another graphic shows the dominant flavors. And a "Regional Differences" section alerts readers that Syrahs from regions such as California and Spain tend to be "Full-bodied with fruit-foward flavors of blackberry, blueberry, sweet tobacco smoke, chocolate baking spices, and vanilla," whereas Syrahs from places such as Chile and the Rhône Valley tend to be "Medium- to full-bodied wines with savory flavors of plum, olive, boysenberry, leather, green peppercorn, bacon fat and cocoa powder." If you know what sort of red wine you like — ripe and rich or taut and earthy — such comparative descriptions can be immensely helpful when deciding whether to choose a Syrah from Argentina or Australia.
Certain parts of the book struck me as problematic, however. Some of the pages devoted to wine-producing countries contained useful information, such as the Chile profile, which explains, counterintuitively, that wine regions there differentiate themselves east-to-west, according to their proximity to the sea and the Andes, more so than north-to-south. Other country pages offered little that you couldn't deduce from walking into a well stocked wine shop. Argentina's page, for example, explains that the country is known for "a bold and fruity style of Malbec" and that the top grapes are Malbec, Cabernet Sauvignon, Bonarda, Syrah, Torrontés and Pinot Noir. The flavor descriptions of each variety tended to be too general to be helpful. Malbec's flavor, for example, "ranges in taste from juicy tart raspberry flavors to rich blueberry and sweet tobacco, depending on the vintage, quality and oak program." The relative merits of the various wine growing areas in Argentina are unaddressed aside from a brief mention of the benefits of high-elevation subregions. I'm left still wondering what to look for when faced with a shelf of Argentine wine in a shop.
Then there were the parts of the book I simply disagreed with, such as the assertion that "All red wines can be aerated," i.e. decanted. If you aerate or decant an old, fragile wine, you'll almost certainly lose whatever fruit and acids might be left. I still smart at the memory of a foolish waiter at a Chicago BYOB restaurant breaking the cork on a 1986 Mondavi Cabernet Sauvignon, pushing the remaining cork piece into the bottle and then decanting it through a coffee filter. When I saw what he was doing at the waiter station, I stopped him in his tracks, but the damage to the half of the wine he decanted was done. It fell flat, lacking the liveliness of the portion remaining in the bottle. I never decant a wine without tasting it first. Otherwise who knows what flavors you might lose in the process?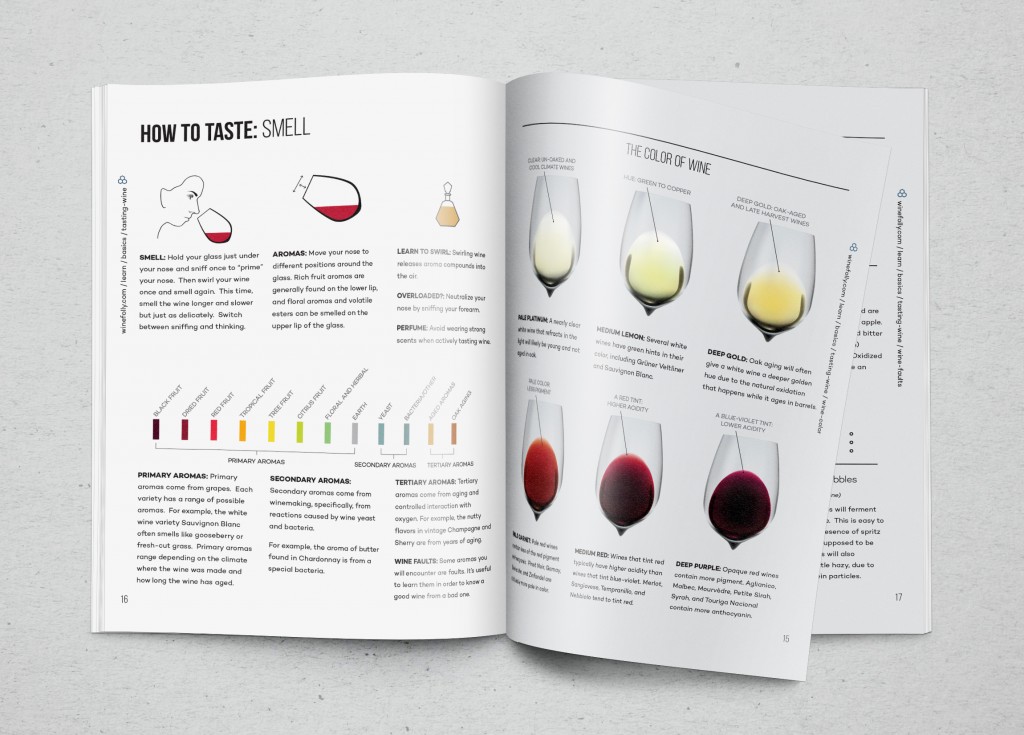 A book of this brevity can't cover everything, certainly, but I did regret certain omissions. In the dessert wine section, Hungary's Tokaji, one of the world's greatest wines by any measure, was notably absent, as was any mention of its main grape variety, the noble and fiery Furmint, which now also appears in striking dry varietal wines. It also seemed a shame to not include the ancient winemaking center of Greece, which has experienced a wine renaissance in the last decade, producing all manner of exciting wines from unusual indigenous grape varieties.
The book's brevity and occasional omissions are much less of a problem if you are willing to use it in conjunction with the Wine Folly website. Links on the side of almost every page direct readers where to find more information about a subject. I prefer not to have to make that extra step to find information — it's much easier for me to pull my Oxford Companion to Wine or World Atlas of Wine off the shelf than turn on my computer or phone to look up a website while already looking at a book.
Criticisms aside, as a stand-alone volume, Wine Folly still works. Someone just getting into wine who wants a systematic, unintimidating, easy-to-understand and visually appealing wine book would surely benefit from Wine Folly. It has a clear organizational structure, and its attractive graphics boil down and simplify a lot of information. Anyone looking for a first wine book should seriously consider this work. And even though I've been writing about wine for more than four years, I suspect I'll refer to those handy flavor wheels from time to time myself!
Note: My copy of the book was provided free of charge.