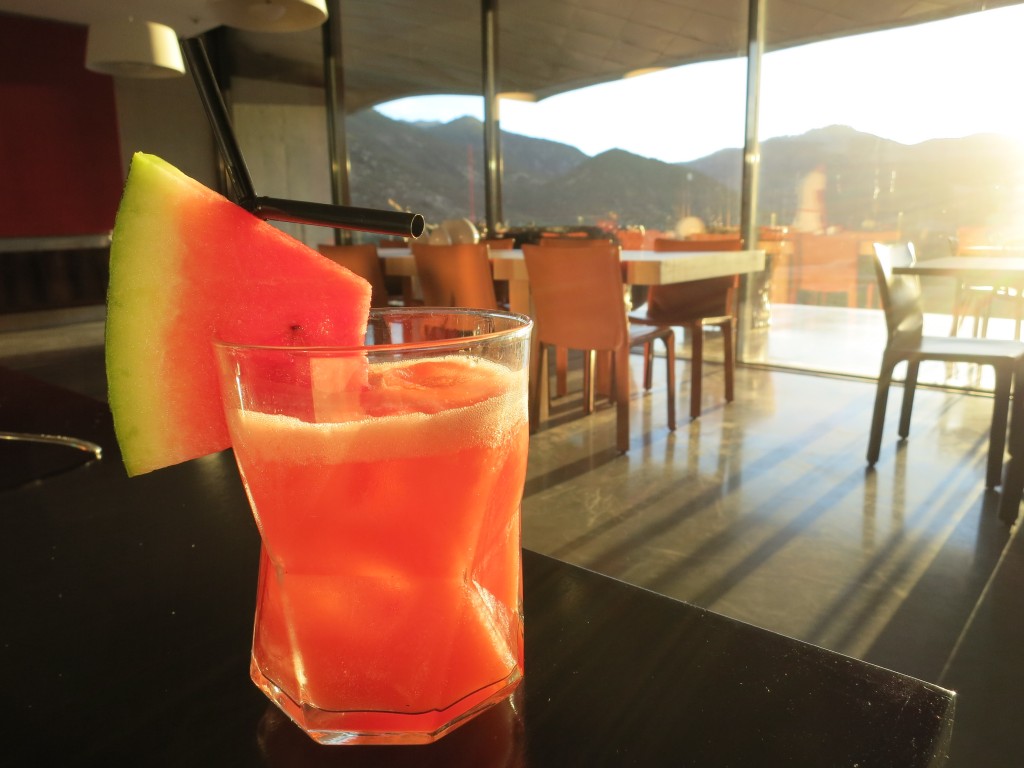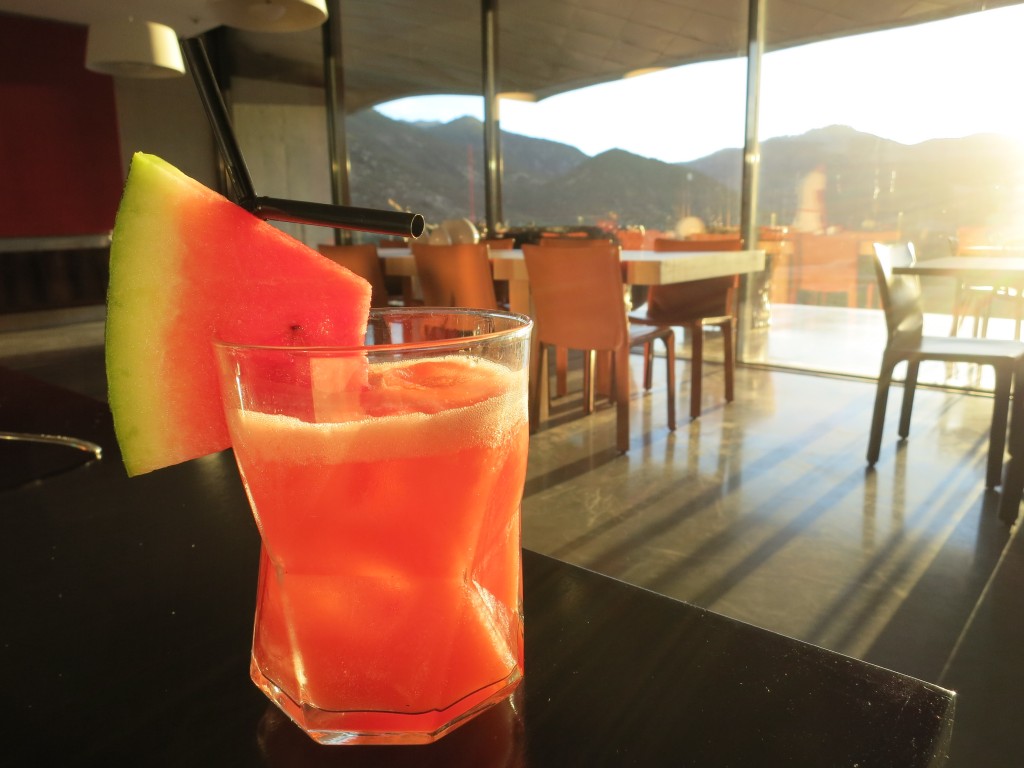 This time of year, I find it especially satisfying to relax with a well-composed and well-chilled cocktail. There are certainly plenty of summery wines out there, but when the temperatures start heading north of 90 degrees, nothing beats the feel of a frosty ice-cold glass in my hand.
When you have people over, it's fun to make them a cocktail that's a little unusual — it makes guests feel special. And, just as important, it makes them feel impressed by your mixology skills. Yet you don't want to end up struggling with drinks that are time-consuming to make, forcing you to stay glued to the bar for the duration of the party, filling drink orders.
The eight recipes below all are relatively simple to make, and each drink has something of a twist. You likely won't find any of these on the cocktail list of your local bar. I've tested each of these recipes myself, so I can give each of them the Odd Bacchus guarantee of quality.
LEMON GINGER MARGARITA
–2 parts Tequila (I used El Jimador Reposado, but any decent reposado or gold tequila should do the trick.)
–1 parts Ginger Liqueur (If you can't find Koval's organic ginger liqueur, Stirrings makes a perfectly tasty substitute.)
–1 part Freshly Squeezed Lemon Juice (There's no substitute for this. Use bottled juice or sour mix at your peril.)
–A smidgeon of honey (or agave nectar or simple syrup)
I love, love, love this drink. It tastes citrusy and sweet, with some intriguing spice and floral notes. Juice a whole lemon, and use the amount of juice you get as the measure of one part. Combine the lemon juice, tequila and ginger liqueur in a shaker. Add the honey, and stir to dissolve.
You can also use a splash of simple syrup or agave nectar, but I like the additional depth from the honey. In fact, you can make this cocktail without any added sugar and it will taste fine, but honey, simple syrup or agave nectar really does wake it up.
Add ice to the shaker, shake vigorously, and strain into a large martini glass. Garnish, if you're feeling fancy, with a slice of lemon or a strip of fresh ginger.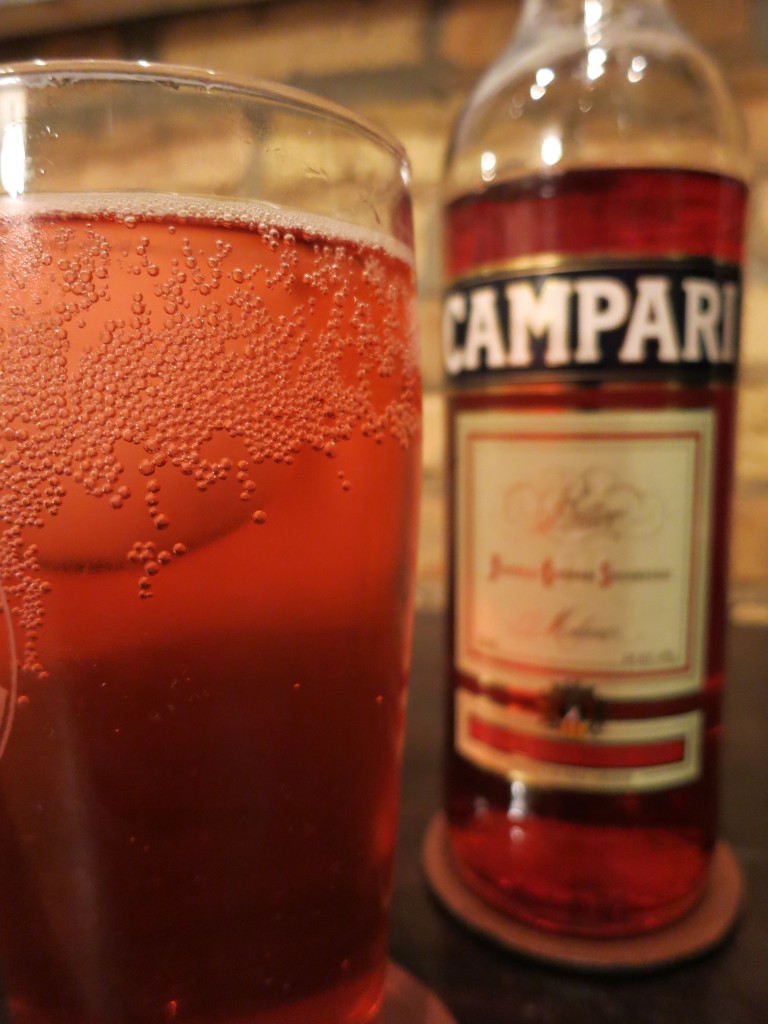 MILANO
–2 parts gin (I used Death's Door)
–1 part Campari
–1/2 part ginger liqueur (we used Koval)
–1/4 part fresh-squeezed lemon juice (do not use bottled)
Popular though Campari and orange juice may be, my favorite mixology buddy and I decided that it was time to come up with something a little more interesting to do with Campari. Inspired by the Negroni, we started with gin and Campari, and eventually settled on the additions of ginger liqueur and lemon. The result tasted very zippy, spicy and sweet, but with a grounding bitterness provided by the Campari. I loved the balance of this cocktail, as well as the pretty pink-orange color.
Combine all the ingredients above in a shaker with ice, shake vigorously, and strain into a martini glass. Garnish with a twist of lemon or orange. Or not.
THE BEST EXOTIC MANGO MARTINI
–2 parts vodka (I like Sobieski — it's an excellent value for the money — but use whatever brand you prefer)
–1 part mango juice (100% juice if possible)
–1/2 part fresh-squeezed lemon juice
–2 or 3 fresh basil leaves, depending on their size
Small splash of lychee liqueur (I used Soho Lychee Liqueur, which is available at Binny's for $25)
Juice a lemon, and use that as the measure of one part (one lemon will make two cocktails). Add all the ingredients above to a shaker with several cubes of ice. Be sure not to add too much lychee liqueur — it can very easily overpower a cocktail. Just a tiny splash should do the trick. Shake vigorously, so that the basil leaves bruise and release their flavor. Strain into two martini glasses, and if you want to get really fancy, garnish with a basil leaf. It tastes sweet, tart and vaguely exotic, with whispers of the basil and lychee. It's just the thing to pair with Asian food.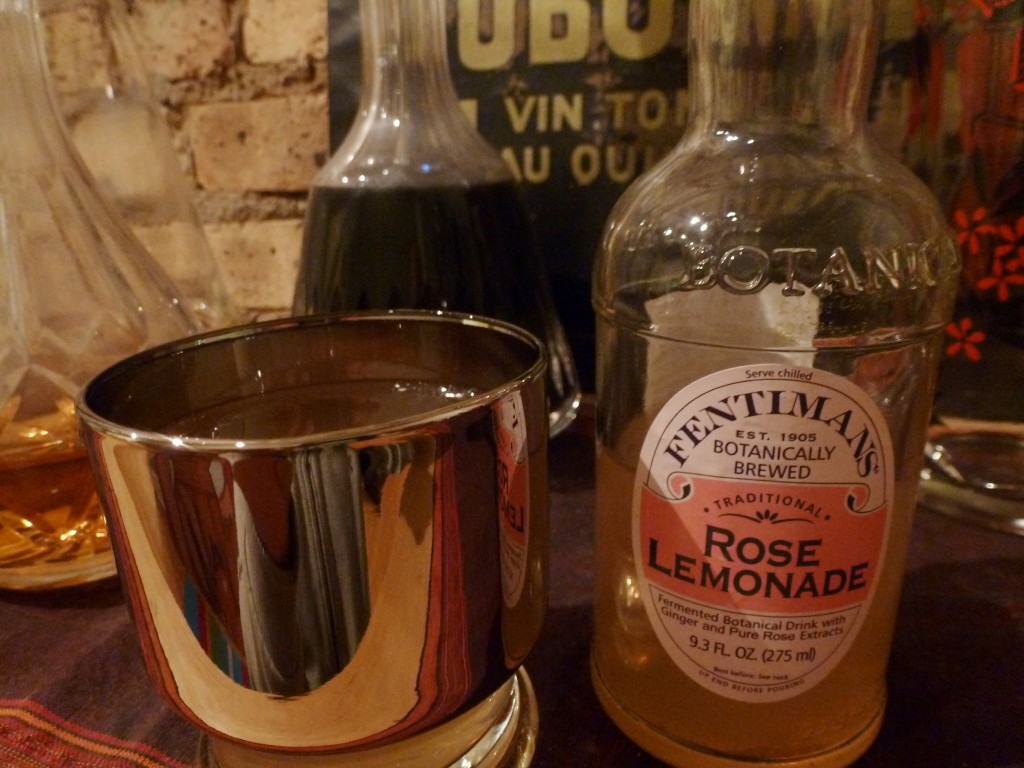 GIN & ROSE LEMONADE
This cocktail couldn't be simpler. Just mix 3 parts Fentiman's Rose Lemonade soda with 1 part gin (I used Death's Door). This combo smells amazing, with aromas of rose and juniper co-mingling beautifully. Aromatic, tart, not too sweet, complex — this is the whole package. And you can mix one up in about 20 seconds! Many Whole Foods stores carry the Fentiman's soda line.
PINK PIGEON DAIQUIRI
–2 parts Pink Pigeon Rum (a vanilla- and orchid-infused rum from the island of Mauritius, available at Binny's for $30 a bottle)
–1 part fresh-squeezed lime juice
–Very small splash of simple syrup (1 part sugar dissolved in 1 part water, also available in bottles at liquor stores)
A classic daiquiri has summer written all over it. As always, fresh lime juice is important — do not substitute bottled, which tastes quite different. Combine all of the above ingredients in a shaker. If you don't have simple syrup, just add a small pinch of sugar to the lime juice and rum before you add the ice, and stir to dissolve. Add some ice, shake, and strain into a lowball or martini glass.
Ordinarily you would use more simple syrup in a daiquiri, one of the simplest and best rum-based cocktails, but because Pink Pigeon already tastes sweet, only a touch of additional sugar is necessary to balance the tartness of the lime. The resulting drink is refreshing and citrusy, with a wonderful additional layer of flavor from the vanilla. It has an almost Dreamsicle-like quality.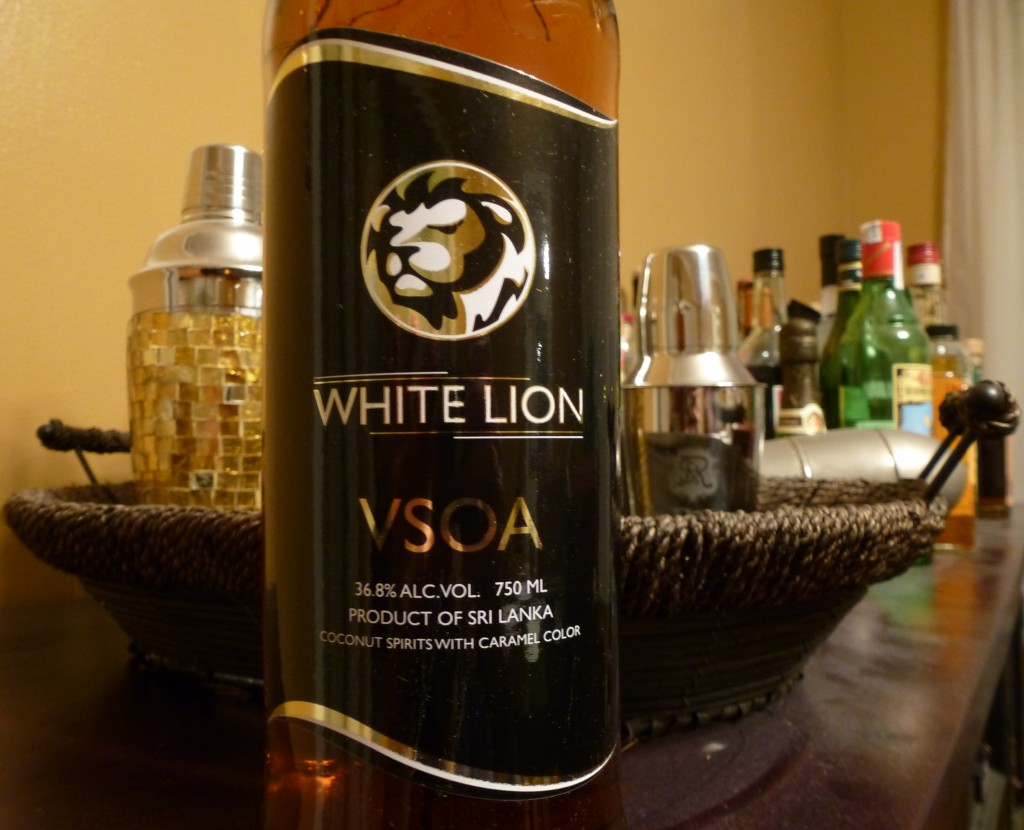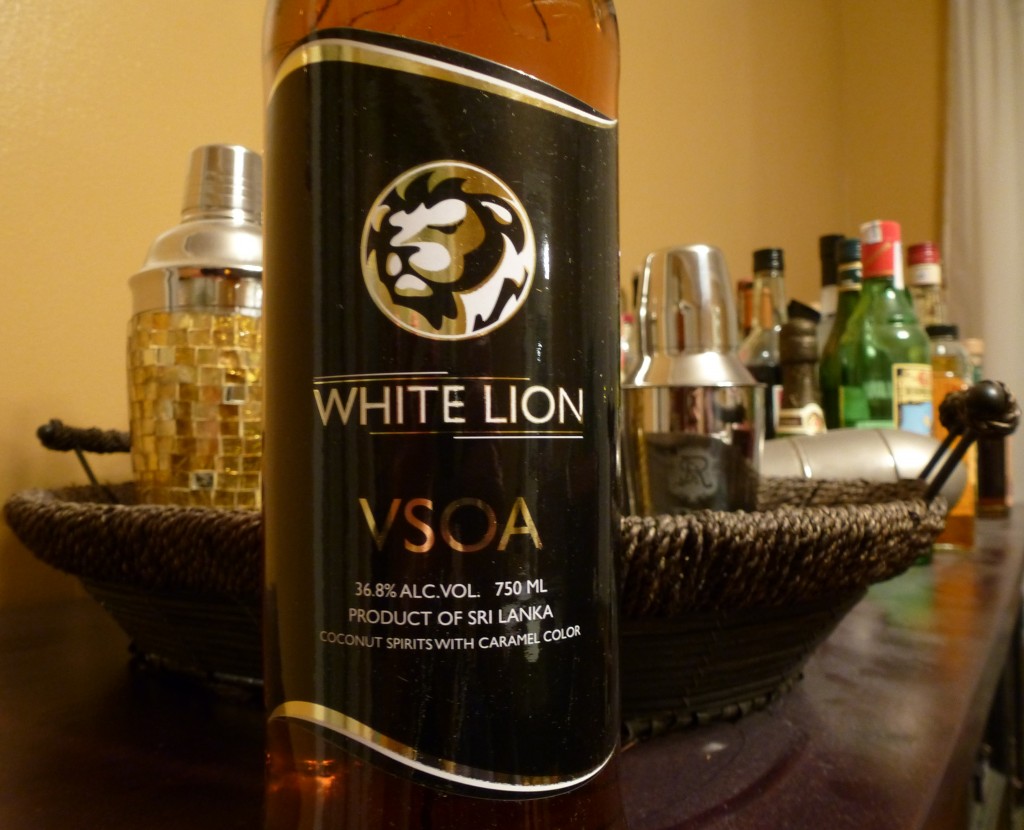 LION'S TAIL
–2 parts White Lion VSOA (available at Old Town Wine and Spirits for $25 and at Binny's for $28).
–1 part coconut water
–1 part freshly squeezed lemon juice
–Splash of simple syrup
VSOA stands for "Very Special Old Arrack," not to be confused with anise-flavored arak from the Middle East. This Sri Lankan spirit, distilled from coconut flower nectar, tastes more like Cognac.
As before, use the amount of juice you get from your lemon as the measure of a part. Combine the ingredients in a shaker with ice, and shake vigorously. Strain into a martini glass, or — why not — into a coconut shell. This mix has a uniquely savory flavor which is not at all unpleasant. You can omit the simple syrup, but I found that it brightened the citrus notes considerably.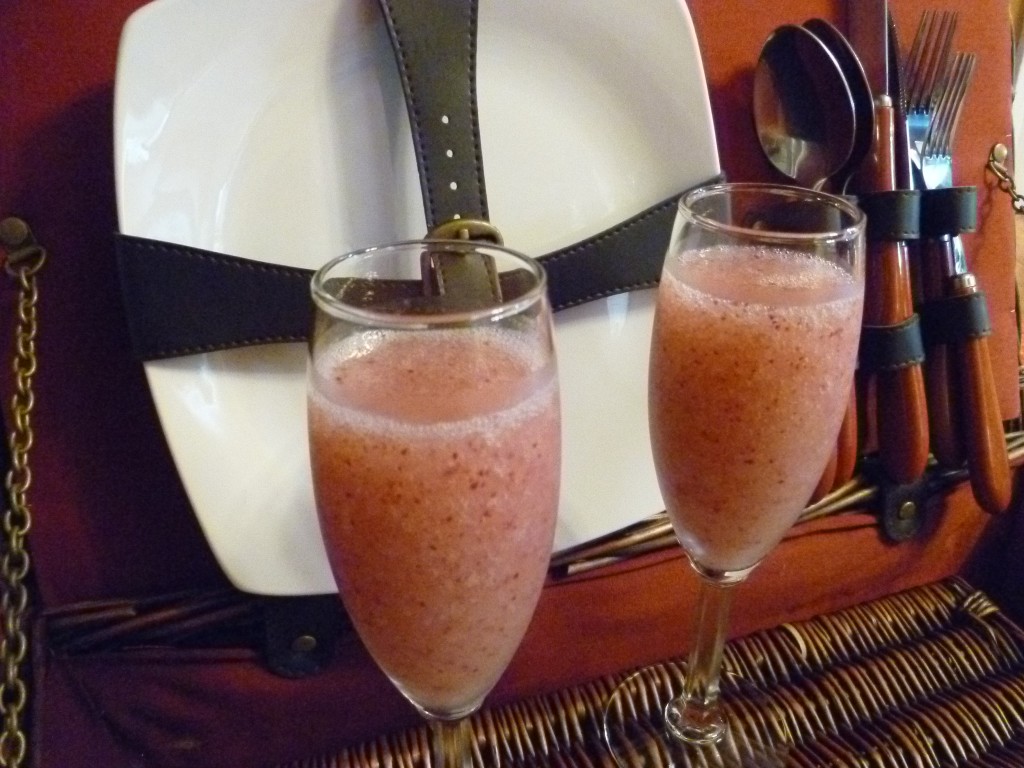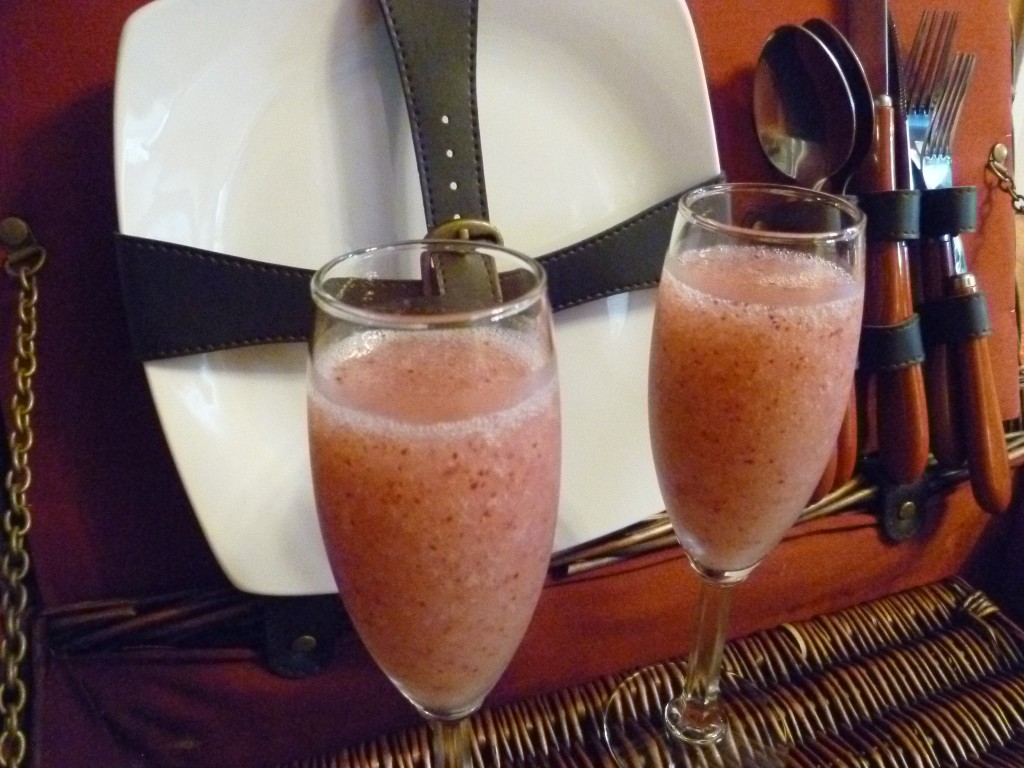 NECTARINI BELLINI MARTINI
–Two white nectarines, cut into large chunks (you can cut up a bunch in advance to have at the ready)
–1 1/2 parts vodka
–1/2 part Triple Sec (I use Stirrings)
–Ice cubes
Making a Bellini, a classic Venetian cocktail of white peach purée and Prosecco, is a royal pain in the ass. Harry's Bar, which made the cocktail famous, suggests hand-grating the peaches (a food processor aerates the fruit, giving you a foamy mess when you add the Prosecco), but who wants to go through all that? So forget the Prosecco.
And let's change out the peaches as well. With peaches, you can either have little bits of furry skin floating in your drink, or you can peel them. Screw that. No peeling. Instead, secure a supply of ripe white nectarines, which have thin, non-furry skin. White nectarines are a must in this cocktail. In addition to tasting sweet and fruity, white nectarines have a wonderful perfumed quality you simply don't get from the yellow variety. They also look gorgeously pink when you blend them up. This drink would surely taste OK with yellow nectarines, but I promise you, white nectarines make a huge difference.
Add the nectarines to the blender, followed by the vodka and Triple Sec. With my average-size fruits, I found that the cocktail tasted balanced with one ounce of booze per piece of fruit. If your nectarines are unusually small or large, adjust the proportions accordingly. The amount of ice cubes you add should approximately equal the amount of fruit.
Blend until very smooth, at least 30 seconds. Serve in champagne flutes (these are still Bellinis, after all). Two nectarines should get you about five or six full flutes of an unusually refreshing and fragrant cocktail.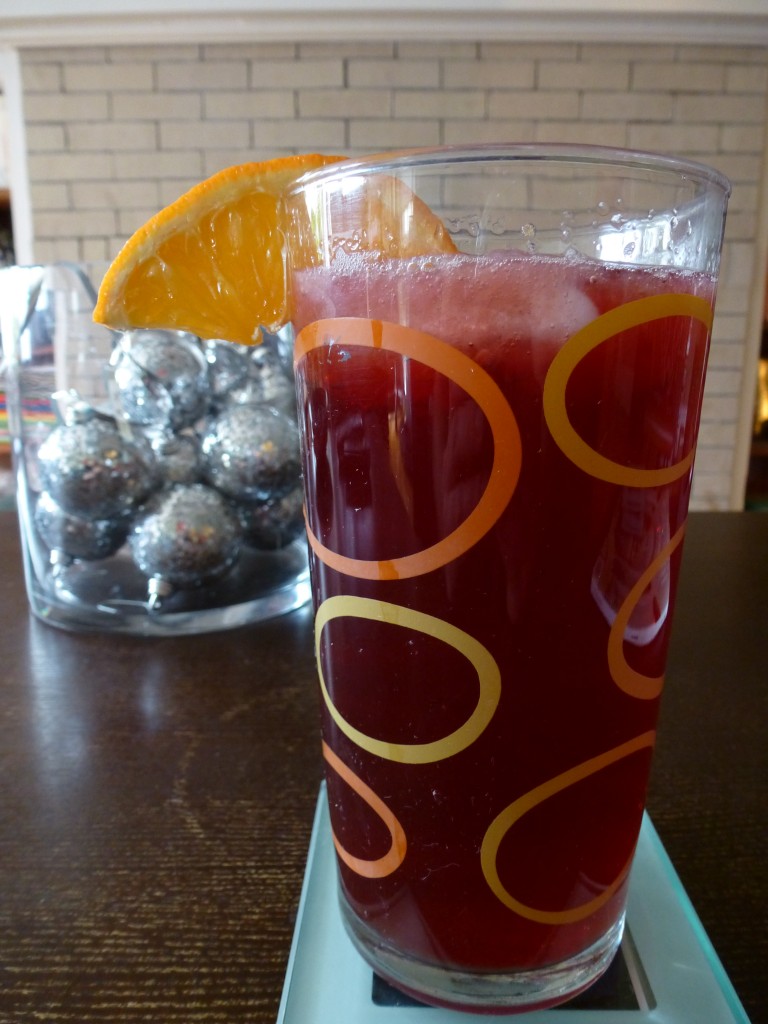 FANCY CHERRY LEMON STUFF (suggestions for alternative names are welcome)
–One can of club soda
–One lemon
–One ounce tart cherry juice
–Orange slice
Most of us have at least one friend who chooses, for whatever reason, not to drink alcohol. I want my non-drinking friends to feel like they're drinking something as fun as everybody else, and so I like to serve them perhaps the most unusual drink of all: The Non-Alcoholic Cocktail. This example is one of my favorites.
Juice the lemon. Pour the can of club soda over a little ice in a large tumbler. Add in the lemon juice, and a full shaker cap (about one ounce) of 100% tart cherry juice, available at Whole Foods. This tastes complex and sweet, but not too sweet. Again, the orange garnish adds another layer, its aroma mixing beautifully with the flavors of the drink.