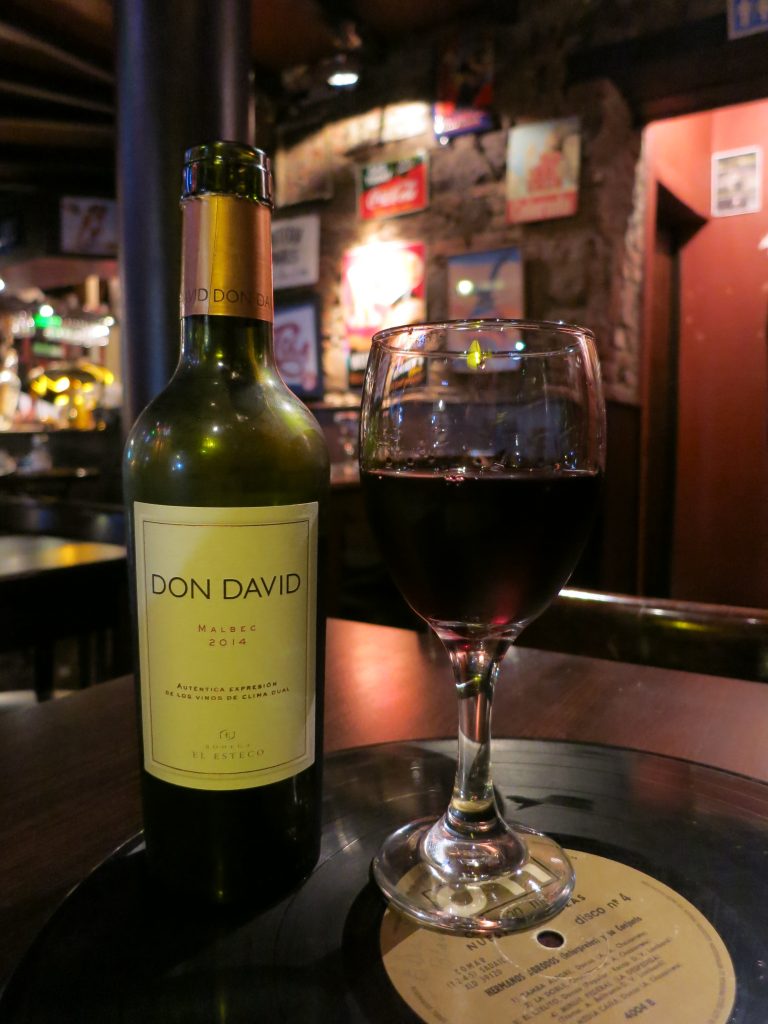 You may well wonder what a post about Argentine Malbec is doing on a blog about unusual/obscure wines and spirits. Few wines are less obscure than Argentine Malbec. It makes an appearance at almost every BYOB party I attend. At a recent one, I asked a fellow attendee if she liked the Malbec she was drinking. She shrugged and replied, "It's Malbec," as if to say, "How good do you think this can get?"
Cheap Malbec is everywhere, which isn't at all a bad thing — it's usually fruity and drinkable, at least, and there's nothing wrong with that. So ubiquitous is cheap Malbec, in fact, that I suspect that many wine drinkers out there would balk at the idea of paying $15 or $20 for a bottle, even though the jump in quality easily matches the jump in price. It's just Malbec. Why pay those kind of prices?
My recent visit to Salta, Argentina's northernmost wine region, rekindled my love and respect for the grape. In the right terroir, a conscientious winemaker can work real magic with Malbec. Mendoza makes the most famous Malbecs — and many of them are an absolute delight — but these days, I seek out the gorgeously rich and concentrated Malbecs of Salta.
What's so special about Salta? According to The Oxford Companion of Wine, the region has "soils not dissimilar to those of Mendoza," but it has "a mesoclimate that ensures a combination of good sugar levels at harvest… and above-average total acidity, thereby ensuring a wine of depth and balance." Ample sugar combined with above-average acidity makes for very exciting wines indeed.
Salta's remarkably high altitude is one of the biggest factors in its success. The Oxford Companion explains:
Even the lower vineyards in Salta are at 1,650 m/5,413 ft, and because of this elevation, the vine is forced to protect itself from extreme weather, resulting in lower yields and thick skins, which produce concentrated, full-bodied wines that are also extremely fragrant.
And just as important, the region's winemaking has recently made a major leap in quality. Alejandro Nesman, the winemaker at Piattelli's Salta facility, explained the changes: "When I arrived five years ago, Cabernets were herbaceous and tannic," he said. "Now they have more balance. Everything is starting to change."
He noted that winemaking in Europe is "much easier," but in Salta, "we're discovering something — we are new. I think there is a lot of future here in Argentina, and especially in Cafayate." (The town of Cafayate is at the heart of Salta's vineyards, but you're much more likely to see "Salta" on a wine label.)
In many cases, the future is already here. These Malbecs were especially memorable:
2014 Bodega El Esteco "Elementos" Malbec: The hotel Legado Mítico welcomes guests with a complimentary glass of this dark, dark wine. It smelled of plums, raisins and something savory. It felt dark and meaty, with an almost chewy texture and some velvety tannins on the finish. It tasted ripe and luscious, but it had notable focus keeping it all together. Available in the U.S. for about $18 a bottle.
2014 Bodega El Esteco Michel Torino Estate "Don David" Reserve Malbec: Again, this wine smelled rich and dark. It tasted very fruity, with lots of plum and blueberry, balanced by plenty of acid, a touch of wood and some light white-pepper spice. I loved how smoothly it shifted from flavor to flavor. Paired with a llama steak, it became even bigger and spicier. Available in the U.S. for about $14 or $15 a bottle, a ridiculously good value.
2014 Estancia de Cafayate Malbec: You'll likely have trouble finding this example, the house wine of the Grace Cafayate resort, but in the event it's exported to the U.S. in the near future, you can expect a similar rich, dark aroma, but inflected with a bit of chocolate. This Malbec had plummy fruit to spare, leavened with some green peppercorn spice, and a smooth, voluptuous texture. "A feather bed of a Malbec," I wrote in my notes.
2014 Piattelli Vineyards Malbec Reserve: A lovely opaque magenta color, this wine had an enticing aroma of dark fruit, vanilla and a hint of violets. Again, it tasted of ripe, dark fruit, but the acids and spice were especially zesty. Although not without density, this Malbec felt impressively light on its feet, and even the finish was bright. I craved some steak with chimichurri to pair with it. I had trouble finding somewhere to buy this wine, but if you encounter it, it should run about $15 (not to be confused with the winery's Malbec from Mendoza).
2014 Piattelli Grand Reserve Malbec: The "best of the crop" goes into this wine, and after drinking a glass with lunch at the winery, I believe it. The aroma was sensationally rich, with notes of blackberry jam, fresh wood and some tobacco. I loved the sumptuous dark fruit, focused acids and gorgeously supple tannins, as well as the whiff of tobacco on the finish. We all have personal preferences when it comes to wine, and this Malbec checked just about all of my boxes. I found a store on the Wine Searcher website selling it for $22 a bottle, which is an absolute steal. (Again, not to be confused with the Grand Reserve from Mendoza.)
Finding Malbecs from Salta requires a little effort even in stores which carry them, because rarely does a wine shop separate those bottles from Mendoza wines. But spend a little time squinting at the wine labels, and you'll be amply rewarded.
If you like rich, dark fruit balanced with vibrant acids and focused spice, Malbecs from Salta will be right up your alley.