19 April 2014
Comments Off

on Good News From The Balkans
Many people in the United States associate southern Europe's Balkan Peninsula with war, not wine. Even before the breakup of Yugoslavia, the communist economic system encouraged high yields and "production standards were as low as the market would bear," according to The Oxford Companion to Wine. But peace and capitalism have thoroughly transformed the region's viticulture, and independent wineries are once again free to focus on quality wines from exciting indigenous grapes.
Those of us who live elsewhere are just recently starting to discover the riches of the region. Only in 2001, for example, did DNA profiling establish that Zinfandel, one of the United States' most popular varieties, was identical to Crljenak Kaštelanski. When it was rediscovered, this ancient Croatian variety had been reduced to just a handful of vines on an island near the city of Split. Now it's once again possible to buy Zinfandel produced in the terroir where the variety originated. 
I've written about wines from the Balkans here and there on this blog, and almost always favorably. Because the wines often came from very small wineries with limited production, it didn't seem to me like they would make much of an impression in America's collective wine consciousness. But that may be about to change.
About a year ago, certified sommelier and native Serbian Marko Babsek created a portfolio of wines called The Balkan Project for Winebow, a major importer and distributor. During a Winebow tasting in Chicago, I asked Babsek about this new portfolio. He seeks out wines made from "indigenous grapes which really highlight the region," he said. "There aren't really any more co-ops" in the Balkans, Babsek explained, "because they weren't financially sustainable." That leaves the independent wineries, which tend to focus much more on quality. And they are what Babsek and The Balkan Project focus on.
I tasted nine of the wines in the portfolio, and there wasn't a stinker in the bunch. In fact, several were quite strikingly delicious. If these represent the future of Balkan wines — the "first wave" of Balkan wines competing in a mainstream setting, as Babsek noted — we have exciting days ahead of us. It may not be long before it's as common to see a "Balkan" section in a wine shop as it is to see an Argentinean section.
MACEDONIAN WINES:
2012 Stobi Žilavka: Tiny, landlocked Macedonia lies on the northern border of Greece, making it the southernmost of the former Yugoslav republics. Stobi is one of its largest wineries, and it used to export bulk wine to the Soviet Union before retooling to concentrate on quality instead of just quantity. The Balkan Wine Project's website notes that Žilavka is an ancient Macedonian variety usually used for blending, but The Oxford Companion to Wine notes that it's mostly planted in Herzegovina, where it can make "distinctive" white wines. In any case, I certainly enjoyed this unusual 100% Žilavka, which had aromas of citrus and creamy white fruit, focused fruit on the palace and some minerals on the finish. 
2011 Stobi Vranec: I'll always have a soft spot for Vranec (also spelled "Vranac"), an ancient red variety native to the Balkans with a parent/offspring relationship to Zinfandel. It was a bottle of velvety Jović Vranac from Serbia which inspired this blog. This Macedonian expression had a ripe and lush dark-fruit aroma with an intriguing saline overtone. Very well-balanced, the wine had plummy fruit, a wonderful dusky quality and a spicy finish. Delightful.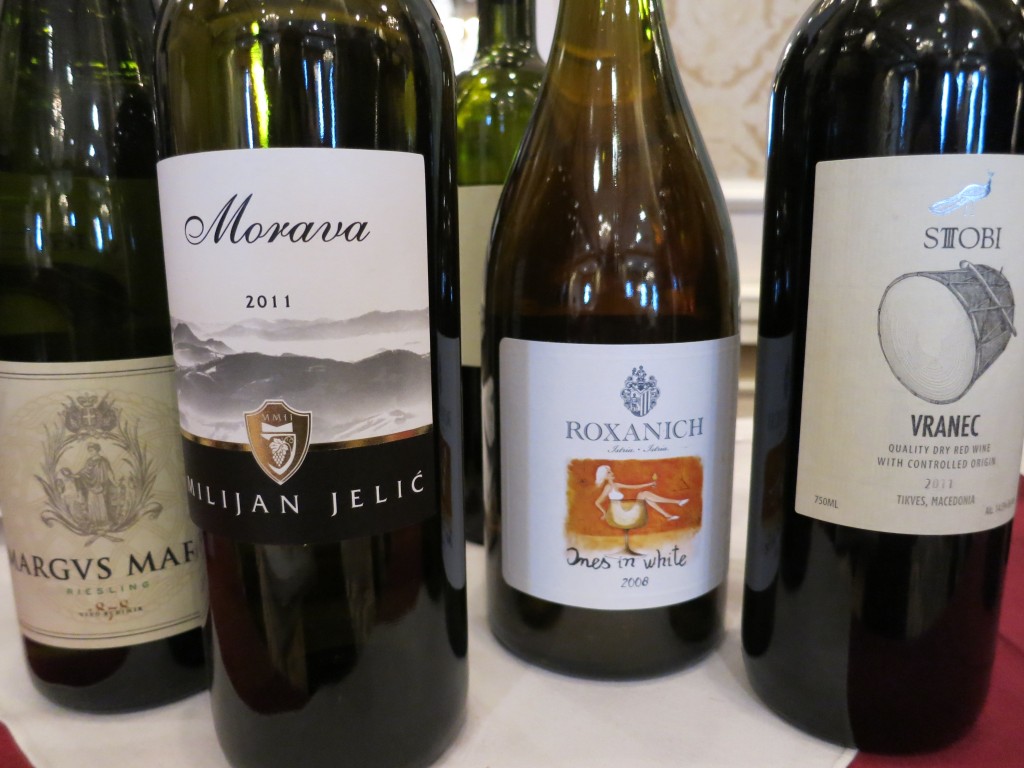 CROATIAN WINES:
2012 Bruno Trapan Istrian Malvazija "Ponente": Istria, a triangular peninsula jutting off the northwest of Croatia, used to belong to Italy, and its food and wine has started to rival that of its former owner. The two Istrian wines Babek presented during the tasting both were absolutely delicious and would surely please the pickiest of dinner guests. This Istrian Malvazija (known locally as Malvazija Istarska)  had a memorably rich aroma which almost moved into caramel territory. Savory and a bit floral, this beautifully balanced wine had impressively focused acids and an underlying note of salinity. Unusual and very, very tasty.
2008 Roxanich "Ines in White": Roxanich, also an Istrian winery, produces wines with little technological and chemical intervention, emulating ancient methods as much as possible. It even bottles wine only during the full moon, according to its website. The "Ines in White" wine is a field blend, which means that instead of blending wines from barrels after they've already fermented, the blend literally occurs in the field. The vineyard for this wine contains Verduzzo, Sivi Pinot, Bijeli Pinot, Sauvignon Blanc, Friulano, Riesling Italico and Glera varieties, and the all grapes are fermented together to create the blend. Because the wine is aged in large (poorly sealed) wooden vats, it slowly oxidizes and turns orange. Add to that a lack of filtration, and it sounds like a recipe for disaster. But this unusual, almost reactionary winemaking process results in a lovely final product. It smelled of sweet and rich orange flowers, but it tasted very dry, with focused fruit, tart acids and some noticeable tannins. It reminded me a bit of Frank Cornelissen's Munjebel #9. Unique and wonderful.
SERBIAN WINES:
2011 Milijan Jelić Morava: This winery near Valvejo southeast of Belgrade dates back only to 2002, but already it's producing wines worthy of note. I was glad Marko Babsek told me that Morava is a cross of Riesling and local Serbian varieties, since Morava doesn't even appear in my Oxford Companion to Wine. Perhaps that's because Milijan Jelić has the only vineyard of this variety in the world! This "Serbian Kerner," as Babsek liked to call it, had an appealing aroma of tropical fruit and peaches underlined by lemon-lime citrus. The peaches reappeared on the palate, but tart acidity kept them well in balance. It reminded me of Pessac-Léognan from Bordeaux, one of my favorite white wines from anywhere. Seek this wine out.
2012 Agrina DOO Portugizer: The winery which produces this red is actually called Mačkov Podrum, but on exported bottles, the name was changed to the more pronounceable Agrina. I haven't had too many good experiences with Portugieser (the more common spelling), to be honest. I remember it mostly from wine taverns in Vienna, where it tasted quite light and rather boring. But as the Oxford Companion to Wine notes, this variety "can yield wines of real concentration" in certain locations. This particular expression of Portugieser had a grape jam aroma and purple flavors of big, open fruit. Lemony acids provided some balance. A fun wine for a party.
2008 Vino Budimir Riesling "Margus Margi": The hilly estate of Budimir has some of the oldest vineyards in The Balkan Project's portfolio. Riesling may not be indigenous to Serbia, but Vino Budimir puts a distinctly local slant on this well-known variety. It smelled sweet and smoky, this Riesling, and though it tasted rich, powerful acids maintained balance. After a couple of sips I was craving a plate of pork cutlets with paprika.
2007 Vino Budimir "Sub Rosa": Babsek alerted me that this wine, a blend of native Prokupac and Cabernet Sauvignon, comes from some particularly old vines on the property. It shows. The wine had a fascinating and enticing aroma of musky spice mixed with jammy fruit. It tasted of deeply rich, red fruit but the acids and some bracing tannins kept everything well in balance. I would love to have a few bottles of this in my cellar.
2007 Vino Budimir "Triada" Red: Triada translates as "trinity," according to The Balkan Project website, and the name refers to the winery's motto: "My family, my land, my wine." This wine is composed of only one grape variety, Prokupac, which some claim is identical to Syrah, according to the Oxford Companion. I've been quite fond of Prokupac ever since I was introduced to it, and this example did nothing to change my strong affection for the variety. It had aromas of raspberry jam and earth, overlaid with a floral note — lilac perhaps. It tasted of dark fruit but felt surprisingly austere and dry, with almost rasping tannins leavened with juicy acids. Surely excellent with steak.
Too often, if one sees quality Balkan wines in a store at all, they're shunted off with uninteresting, sickly sweet Manischewitz-like plonk. The wines in The Balkan Wine Project's portfolio, along with the other fine examples I've tasted over the last three years, clearly demonstrate the high potential of this region. These wines deserve respect. There are exciting things happening on that peninsula, and wine drinkers are starting to notice.