I don't buy Oregon Pinot Noir, and I haven't written about Pinot Noir from Oregon on this site. Not once in Odd Bacchus's eight years of existence. The problems I had with Oregon Pinot Noir were twofold.
First, I couldn't afford anything that was more than merely drinkable. As any wine writer will tell you, Pinot Noir is a "finicky" grape, and it's very difficult to produce good Pinot inexpensively. Lettie Teague of the Wall Street Journal just wrote a column about this very fact (she did find two Oregon Pinots that each cost $20 that she liked, the 2017 La Crema and the 2017 Stoller Family Estate Dundee Hills).
Second, when I did drink an Oregon Pinot Noir, more often than not, I detected a certain meaty quality. I didn't care for it, and I saw no reason to shell out $20 (or more) to experience it.
Nor did Oregon Pinot Gris, one of the state's signature whites, ever dazzle me. Only the occasional Müller-Thurgau or Pinot Blanc caught my eye.
And so it was with rather low expectations that I went to a recent tasting of Oregon Pinot Noir, held here in Chicago. The PR representative who invited me was very kind, even remembering that I had been traveling during last year's tasting, so I felt I had to at least give it a try.
No stranger to the Pinot Noirs of Burgundy — I've had the fortune to visit the region on four separate occasions — I wanted to know what the argument for Oregon was. So I decided to ask every winery representative I met that very question. Why drink Oregon Pinot Noir, rather than an example from Burgundy, New Zealand or somewhere else?
I got a lot of fascinating answers:
Rebecca Oliver, the National Sales Manager for Lemelson Vineyards, sounded two notes that I was to hear more than once over the course of the tasting: "We have such camaraderie here in Oregon, and the sense of place is unlike anywhere else; Oregon Pinot tastes different from Pinot in other places. We're all farmers, and we're all here promoting Oregon first, then Pinot, then ourselves."
Megan Joy, Associate Winemaker for Goodfellow Family Cellars, had this to say: "The beautiful thing about Pinot Noir is that it's an expression of place. It's not about one or the other. There are lots of beautiful Pinots out there from different places, but I happen to love the ones from Oregon."
Heather Early, the Illinois State Manager for The Four Graces winery, did not mince words: "Oregon — it's like the Wild West. We don't have the rules and specifications they have in Burgundy. We do whatever the f*** we want."
I also asked The Four Graces' Winemaker, Marc Myers, what he thought: "I would say passion. Everyone I know who works in Willamette is passionate, and I haven't seen that everywhere. And second, I would say collaboration. We're all working together [to promote Oregon wines]."
Jessie Bates, the National Sales Manager for Trisaetum, didn't necessarily care for the comparison with Burgundy: "I wouldn't say to buy [Oregon Pinot Noir] instead, buy it alongside. We know what our relationship to the Old World is; I don't say the "B" word. It's very different. It's America, it's Oregon wines. Americans are much more sophisticated now than they've ever been. And the message is that we can make wines as good as any in the Old World, in spite of the relative youth of the region."
The Director of Sales of Dusky Goose, Natalie Sigafoos, echoed what some of her fellow Oregonians had to say: "It's a matter of style. No matter who the winemaker is, we have a central core, even with different soils and climates. Also, we're very supportive and we lift each other up. The collaboration and cohesiveness is amazing. Whenever a problem comes up in a vineyard, vineyard managers talk about it with each other. Winemakers have each other on speed dial. I moved from Napa 15 years ago, and it was not like that at all."
But what is the central core of Oregon Pinot? And is it worth the money? I tasted examples from the above wineries, wineries chosen entirely at random. (Or more accurately, chosen because there weren't many tasters crowding their tables at the time I approached.) I didn't detect any unpleasant meatiness in any of the wines. In fact, I didn't find a stinker in the bunch. Every single wine was obviously very well made, and most of them were even to my taste.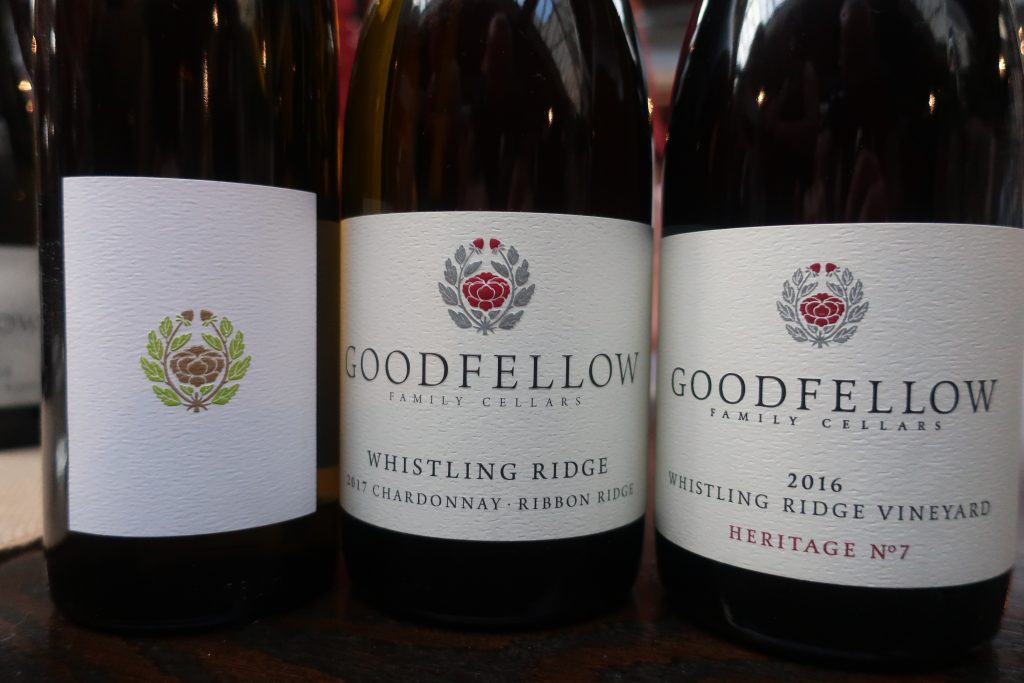 The 2015 Lemelson Vineyards "Thea's Selection" Willamette Valley Pinot Noir ($34) is a fine example. It had an enticing aroma of ripe cherries and spiciness, and I loved its texture: simultaneously full and light on its feet. I mentioned this to Oliver, who agreed. "Texture is paramount to us," she said, and those are welcome words to this mouthfeel queen. I also very much enjoyed its ripe fruit flavors, focused white-pepper spice and precise sour cherry acidity that kept the bottom from ever falling out. What a delight.
Goodfellow Family Cellars' 2016 Whistling Ridge Vineyard Heritage No. 7 Single Block Pinot Noir ($70) was similarly delicious, with a hint of violet in the aroma and some pie crust mixed in with the cherry fruit and focused acidity.
The 2017 Four Graces Dundee Hills Estate Vineyard Reserve Pinot Noir ($45) was more brooding and dark; a sexy wine that had just a hint of spicy funk mixed in with the expected dark-cherry fruit and refined white-pepper spice.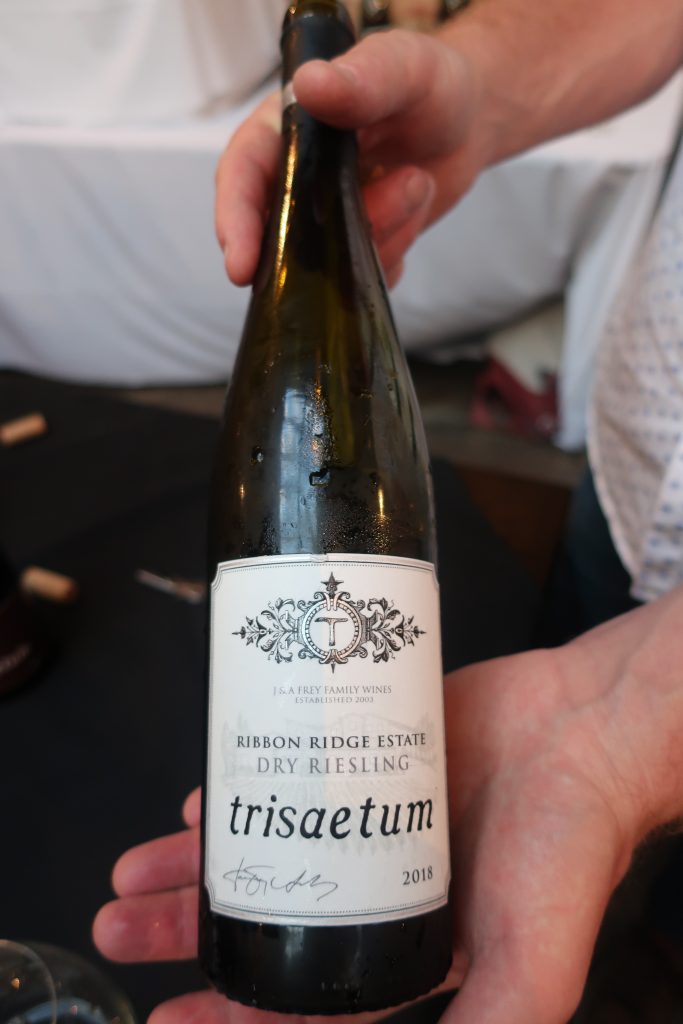 Dusky Goose also made a wonderful wine from Dundee Hills fruit (this region is regarded by many as one of Oregon's best). The 2014 Dusky Goose Dundee Hills Pinot Noir ($70) had those delightful notes of purple flowers and ripe fruit that bordered on cough-syrup cherry. But the focused spiciness and lively acidity had such force, the wine maintained excellent balance. It was at once pretty and strong.
Nor did the 2017 Trisaetum Willamette Valley Pinot Noir ($30) disappoint, with its juicy dark-fruit aroma, flavors of cherries and pie crust and well-integrated tannins. This was also a wine that balanced its ripe fruit with aplomb, developing with deliberateness and obvious structure.
In addition to these wines, I highly recommend trying Dusky Goose's 2015 Chardonnay ($60) — dare I say it felt Burgundian? — and Trisaetum's 2018 Ribbon Ridge Estate Dry Riesling ($49), redolent of dark citrus and pear.
Well, it seems there is a whole state's worth of delicious wines that I've denying myself. It's not often that I spend $30 to $70 (retail) on a bottle of wine, I must admit, but if that is within your budget, Oregon's wines should definitely be in your sights. I'm still unconvinced that the state's less-expensive offerings are worthwhile, but in that price range, the wines are a delight, pure and simple.